After much-anticipation, we're pleased to announce that our internet-famous fries are now available at your local ALDI store. Made with Cypriot Halloumi, our Specially Selected Halloumi Fries ($4.99) are soft, salty and lightly seasoned—just the thing for late-summer snacking or sharing with friends and family over a Mediterranean style feast. Be quick though, our Specially Selected Halloumi Fries are on sale for a limited time only.
And that's not all. It's no secret that we like to keep our customers happy with new and exciting products, and we've got plenty of them on the shelves right now.
Health
New and nutritious, these tasty food items prove that healthy eating doesn't have to be costly or inconvenient.
Goldenvale Protein Granola 450g $3.99
A source of protein, the crunchy oat clusters in our granola are full of pumpkin seeds, sunflower seeds, almonds and linseeds. Available in NSW stores from Friday 1st March.
Just Organic Rice and Coconut Flour 400g/500g $2.19
We've got your gluten-free baking needs covered with our Just Organic White Rice Flour and Coconut Flour. Try your favourite biscuit, cake and pastry recipes and enjoy some gluten-free treats. Available in QLD and select NSW stores.
White Mill Wholemeal Plain & Self Raising Flour 1kg $1.79
Perfect for good, old-fashioned baking, our wholemeal flours are free from any additives. Available in QLD and select VIC stores.
Remano Pulse Pasta $2.99 250g
Available in Red Lentil Spirals, Chickpea Spirals and Mixed Pulse Penne varieties, Remano's Pulse Pasta products are a great way of making Pasta Night that little bit healthier. Made with pulse flour these pastas are naturally Gluten Free and an excellent source of fibre. Pair them with your favourite sauce and indulge in some healthy eating. Available in VIC stores from Friday 1st March.
Dinner
Looking for some great-value dinner inspiration? Look no further.
Emporium Selection Stilton Burger Slices 100g $2.49
Perfect for burgers, steak dishes and toasted sandwiches, this delish blue cheese melt ticks all the cheesy boxes. Available in stores nationally.
Colway Tomusto Sauce 500ml $1.99
Tomusto? If you're the sort of person who takes your burgers with tomato sauce and mustard, then Tomusto will be right up your alley. A perfect mix of the two, our Tomusto is available in QLD stores only.
Mini Feta Salad Cubes (Herb & Arrabiatta) $3.99 150g
Perfect for salads, these crumbly feta cubes are available in a Natural, Herb and Arrabiatta varieties. Available in all stores nationally.
Imperial Grain Microwave Rice Pouch (Coconut or Coconut, Chilli & Lemongrass) $1.99 250g
Feeling peckish but short on time? Then try our Imperial Grain Microwave Rice Pouches. Available in Coconut and Coconut, Lime and Lemongrass, they're quick, easy and delicious. Available in all stores nationally.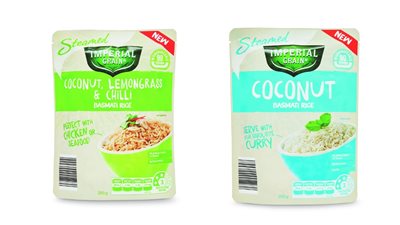 Emporium Selection Brie Slices (Classic or Herb) $3.99 200g
What could be better than brie by the slice? These flavoursome slices, available in classic and herb varieties, are the perfect addition to sandwiches, burgers and wraps. Available in WA stores and select stores in NSW and VIC.
Urban Eats Chinese Style Peking Duck Pancake Kit 590g $13.99
Enjoy Peking Duck Pancakes in the comfort of your own home with this easy-to-use kit that's packed full of goodness. Available in all stores nationally.
Seasons Pride Sea Salt and Truffle Chips 600g $2.79
Up your chip game with these Truffle-flavoured beauties. Available in all stores nationally for a limited time only.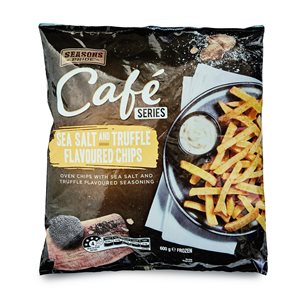 Treat your self
We all deserve a little treat from time to time and, with new biscuits, ice creams and chocolate in stock, we've got your treat needs covered.
"Our ice cream range has become incredibly popular, with many of our products becoming go-to treats for ALDI shoppers. We are always looking for new and delicious flavours to add to our range and have no doubt customers will love our latest seasonal ice creams. With the likes of Salted Caramel & White Chocolate gelato, Cookies & Cream Crown cones and banana flavoured Plat-a-Pops, our freezer section will leave you spoilt for choice," says ALDI Buying Director, Chris McLean.
Milfina Plat-a-Pops Banana $3.49 10pk
Made with real milk and now available in banana flavour, these Milfina Plat-a-Pops are available nationally for a limited time.
Monarc Crowns (Cookies and Cream) $3.29 4pk
It doesn't get much more indulgent than Cookies and Cream flavoured ice cream in a chocolate lined cone. But if you want to pick up some Monarc Crowns you'll have to hurry. This seasonal flavour is available in ALDI stores nationally while stocks last.
Little Spoon Gelato (Apple Pie; Pear, Raspberry & Rhubarb; and Salted Caramel & White Chocolate) $3.99 4pk
With three new flavours to choose from, our Little Spoon Gelato selection just keeps getting better and better. Available in all stores nationally from Friday 1st March for a limited time only.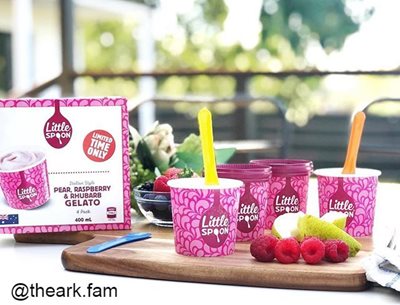 Belmont Biscuit Co. Take Away 5pk $1.99
ALDI's Knoppers are a tough act to follow, but Belmont Biscuit Co. have certainly come up with something special with these bickies. The individually packaged biscuits make the perfect on-the-go treat. Featuring two crispy biscuits sandwiching a thick layer of chocolate, these have delicious written all over them. Available in NSW, SA and WA stores.
Moser Roth Dark Chocolate Raspberry Almond $2.69 125g 
Chocolate lovers are in for a real treat with this new Moser Roth flavour. Made from the finest ingredients and featuring raspberry flavoured fruit pieces and roast almond slices, this very special dark chocolate is available for a limited time in ALDI stores nationally.
And that wraps up the list of new ALDI products to keep a close eye out for the next time you walk down the aisles of your local store. The buying team at ALDI are always looking for new and innovative products to delight our customers tastebuds and we're sure there is a product or two (or more) in this list that you'll be giving a try next grocery shop!