Today ALDI Australia launches its annual 2021 Plastics and Packaging Progress Report, reviewing the supermarket's progress to achieving its goal of a 25 per cent reduction of plastics and packaging by 2025, and what it all means for customers who are increasingly invested in this journey.
New research commissioned by ALDI Australia* confirms a reduction in plastics waste is top of mind for shoppers, with 73 per cent of Australians agreeing supermarkets should work with suppliers to reduce the packaging on products. This hunger for greater recycling action extends into their own homes, with 64 per cent saying it is important that packaging leftover from grocery shop is able to be recycled.
Aussies want to do the right thing, they're just not sure how to
Aussies' recycling prowess is hampered by confusion over how it all works. More than two in five (43%) Australians don't always recycle packaging from their household waste. And when identifying the reason why, another 42 per cent pointed to "confusion over what is suitable for recycling", as the major culprit in not recycling their waste.
Looking for direction, four in five (79%) of shoppers confirmed they would correctly sort and dispose of their household waste if given clearer instructions.  To help curb this confusion, as part of ALDI's plastics and packaging commitments, the Australasian Recycling Label (ARL) logo and recycling instructions will be featured on 100 per cent ALDI's exclusive brand products by the end of this year, already displaying the information on over 75 percent of the range as of December 2021.
APCO CEO, Brooke Donnelly, welcomes the plan to help put more knowledge in the hands of customers to encourage accurate recycling:
"The ARL increases recycling recovery rates and contributes to cleaner recycling streams and it is commendable to see ALDI support its customers to play their part in correctly recycling and disposing of their packaging. Achieving the display of the ARL on 75.6 per cent of own-brand products as of the end of 2021 is a fantastic achievement and it's great to see ALDI on its way to achieving their goal to have it included on their entire range by the end of 2022," Ms Donnelly said.
Helping customers recycle in their home with best-in-class packaging information is coupled with the supermarket's own plastic reduction achievements. At the end of 2021, ALDI achieved a plastic packaging reduction of 11 per cent as compared to 2019, the equivalent to preventing more than 4,000 tonnes of plastic from entering the Australian environment.
"We are well on-track to achieving our targets. Since announcing our commitments in 2019, we have achieved a massive 11 percent reduction in plastics, and this jumps to a huge 18 per cent when it comes to packaging on our fresh produce range," Daniel Baker, Director Corporate Responsibility, ALDI Australia said.
"While we have a responsibility to reduce plastics, we also feel we have a responsibility to help our customers correctly dispose or recycle the packaging that they take home with them after their shop. The industry approved ARL instructions show how to correctly dispose of product packaging and will hopefully give our customers peace of mind that they are doing the right thing by reducing waste to landfill and contributing to a more sustainable future," he continued.
In a bid to give customers more options for recycling, ALDI has also partnered with REDcycle to offer a soft plastics recycling program across all of its stores nationally by the end of 2022. The program offers a closed loop solution that will enable its shoppers to recycle more components of their household waste by returning soft plastics to its stores to then be re-processed into new packaging materials.
Aussies committed to doing the 'right thing'
Despite confusion around household recycling, the research unearthed a committed recycling cohort; with 57 per cent of Aussies surveyed noting they 'Always' recycle packaging from household waste, but 62 per cent noting that companies should have sustainable business practices without passing on costs to consumers.

"We remain committed to transparently reporting not only our accomplishments in achieving plastics reductions across our range, but also our challenges. We have big goals that require close relationships with our supplier partners to achieve them. It is exciting to see product innovation that reflects our need to move away from plastics, a good example of that is our juice boxes which now contains a paper straw.
One thing our customers can be confident in is that we are committed to our plastics reduction targets but it certainly won't come at a hit to their back pockets. We understand completely the importance of affordability and we are committed to being the best priced retailer in the market. We also believe that our affordability doesn't have to cost the earth," Mr Baker concluded.
ALDI's key plastics and packaging achievements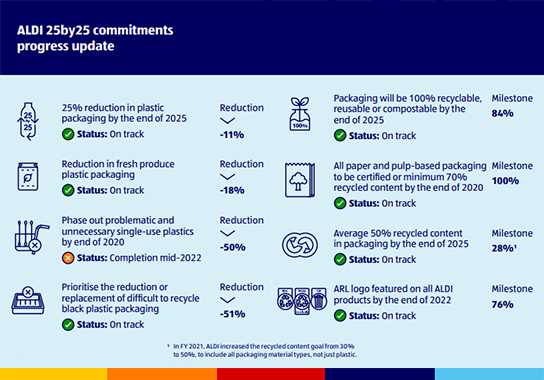 TACKLING PLASTICS HEAD-ON WITH INDUSTRY AND PARTNERS

ALDI works closely with business partners, government and industry to ensure that the supermarket is collectively contributing to the 2025 National Packaging Targets. In May 2021, ALDI became a founding member of the ANZPAC Plastics Pact, a pact that brings together industry stakeholders to take action in creating a circular economy for plastics. It is also an endorser of the Australian Dairy Sustainable Packaging Roadmap, developed by APCO in partnership with Dairy Australia and the Australian Dairy Products Federation.

Achieving its commitments would not be possible without the collaboration of ALDI's business partners, who continue to help drive incredible change.

The majority of Aussie shoppers (78%) agree supermarkets should be reducing the amount of plastics on its products. Any ALDI customer purchasing a Westcliff Juice Popper will find a first-of-its-kind paper straw. This simple swap saves 18 tonnes of plastic waste each year.

Last year, ALDI also replaced most of the polystyrene packaging for our Expressi capsule coffee machines with 70 per cent recycled cardboard and its seeded oil range has had previously PVC labels replaced with PET to enable 113.5 tonnes of plastic bottles to become recyclable annually.

Juslink is an Australian textile wholesaler and manufacturer and has partnered with ALDI since 2003. They design and supply ALDI with fashionable and functional bed linen, bedware and napery, including the much loved Hotel Collection sheets. Juslink have been on a journey to re-work the packaging of their much-loved ALDI Special Buys:

"In 2021 we embarked on a project to remove the PVC plastic packaging that covered the sheets and quilt covers we supply to ALDI, replacing the cover with a material version made from cut offs from the sheet or quilt cover set product itself. It is a more sustainable solution as it eliminates the use of plastic and utilises the existing material we have in production. This transition has removed 75 per cent of plastic from the range on ALDI's shelves," said Ronald Leung, Director, Juslink.

Click here for our new Packaging Material and Design Guide for our business partners.
---
*Research commissioned by ALDI Australia and undertaken by PureProfile surveying a national sample of 1,008 qualified Australians aged 18+ years between 3rd – 5th May 2022.