If generous helpings of turkey and ham sounds like the ideal Christmas feast, ALDI Australia has it covered with plenty of delicious options that will leave Aussies (and their wallets) stuffed with goodness!
Quality products at the best prices is what ALDI does best. Working closely with supplier partners around the country, ALDI is bringing a selection of Aussie hams to Aussie Christmas tables this year in a variety of sizes and all at affordable prices.
Familiar favourites are back this year including Australian Half Leg Ham at the low price of $7.99 p/kg, the Specially Selected Premium Triple Smoked Half Leg Ham ($13.99 p/kg), and the infamous don't knock it-till-you-try it Farmwood Turducken Roast with Cranberry and Apple Stuffing ($29.99). ALDI have also added new products to set your tastebuds tingling, including a Crackling Ham ($19.99 p/kg) and a Triple Smoked Quarter Portion Leg Ham ($14.99 p/kg).
But a traditional Christmas spread isn't complete without the turkey! Serve up a win with ALDI's frozen turkey range which was rated five stars by Canstar Blue in 2022 delivering value for money, taste, and overall satisfaction.
ALDI Australia's Shopping Expert Kylie Warnke says: "The countdown is on to Christmas day and our hams and frozen turkeys make the perfect centrepiece for any festive table. Our hams are delicately cured and smoked, for a delicious and succulent result, and our award-winning frozen turkey products are made from Australian turkey. With such a wide selection to choose from, there's something for every taste and budget."
"We continue to take our customers' feedback into consideration when it comes to bringing favourite products back each season, and while we predict a strong interest in the traditional Christmas favourites, we continue to see our Turducken Roast becoming a returning customer favourite. It's a guaranteed conversation starter when you serve it up on the big day!" says Kylie.
"We are proud of the quality and affordable products we bring customers each year, and are always delighted when customers find an ALDI product they love."
ALDI 2023 Christmas Hams range
Available from 22 November:
Festive Selection Australian Half Leg Ham, $7.99/kg
Made with Australian pork, this Half Leg Ham is cured with sea salt and a hint of honey, then twice smoked with Beechwood until golden brown for everyone to enjoy.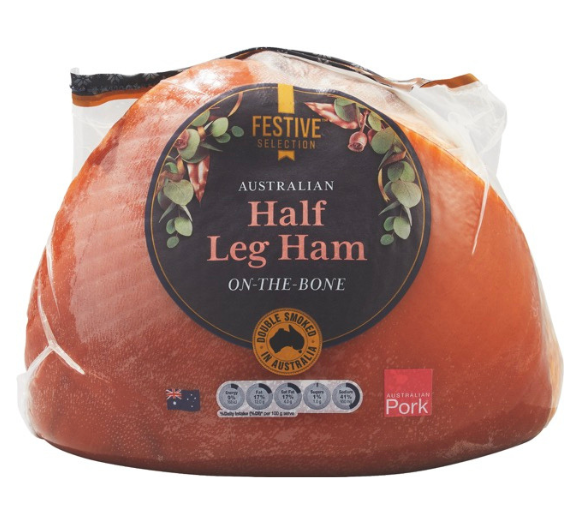 Specially Selected Premium Triple Smoked Half Leg Ham, $13.99/kg
For lovers of a deep, smoky flavour, this premium half leg ham is cured, cooked and triple smoked with natural wood using traditional European methods.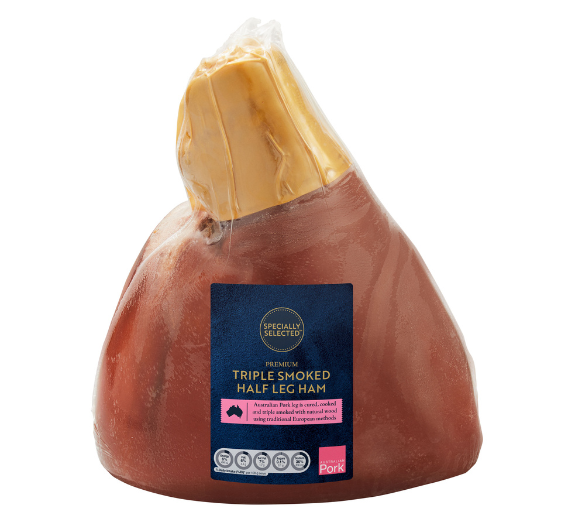 *NEW* Specially Selected Triple Smoked Quarter Portion Leg Ham, $14.99/kg
Made with Australian pork, the Festive Selection Quarter Leg Ham is a convenient option for those entertaining a smaller crowd this year.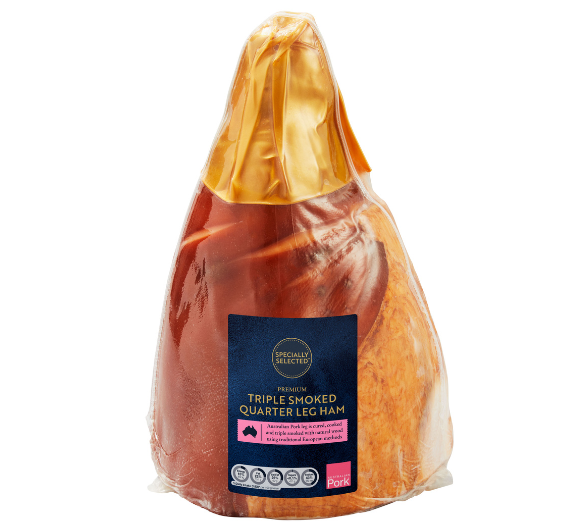 *NEW* Festive Selection Sliced Ham off the Bone 500g, $10.99
Roasted, sliced and ready to eat, this Ham off the Bone serving is super convenient and just as delicious.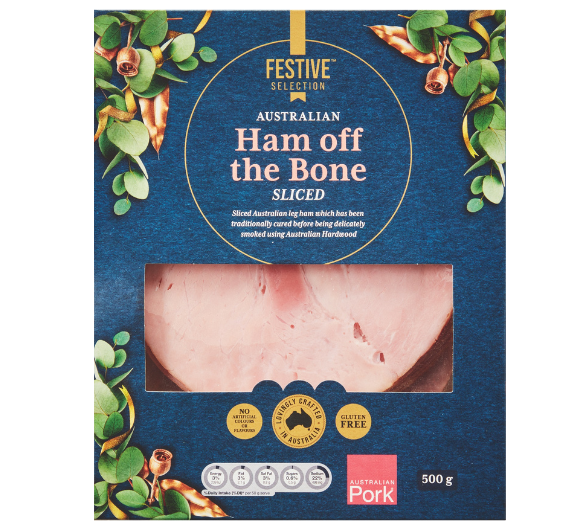 *NEW* Festive Selection Crackling Ham, $19.99/kg
A tasty new addition to the range this year, this Crackling Ham is the ultimate festive main and is sure to be a crowd pleaser.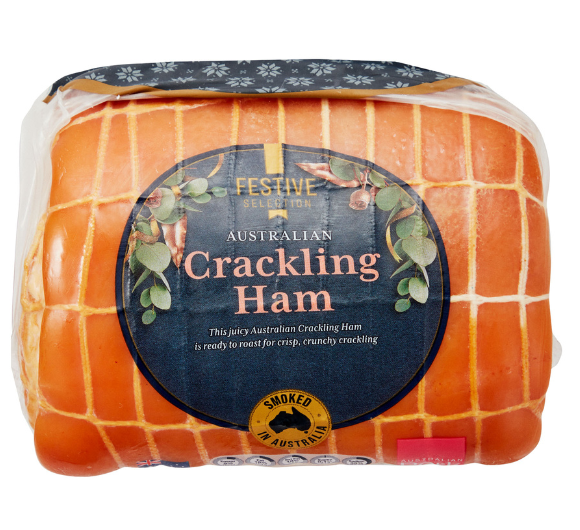 Festive Selection Australian Quarter Leg Portion, $11.49/kg
Packed with rich flavour and priced at excellent value.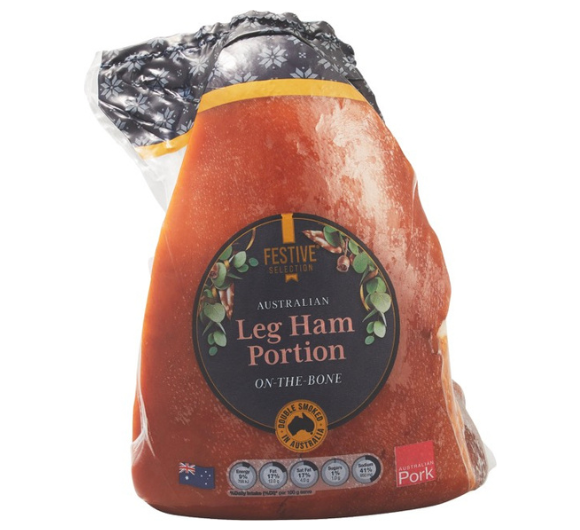 Festive Selection Triple Smoked Boneless Ham, $13.99/kg
This delicious easy to carve ham has been triple smoked using natural wood to create an enhanced smoked flavour.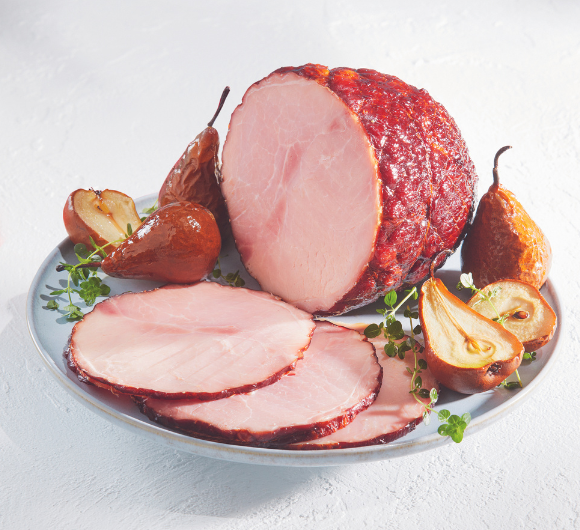 Specially Selected Scored and Roasted Ham, $16.99/kg
Made with the finest Australian pork, this Scored and Roasted Ham is delicately cured and lightly smoked.
Festive Selection Glaze & Bake Ham, $23.99
For all those short on time this festive season, this new arrival comes with a spiced pomegranate and orange glaze that means you can enjoy all the rich flavours of a tender and juicy boneless ham without breaking a sweat.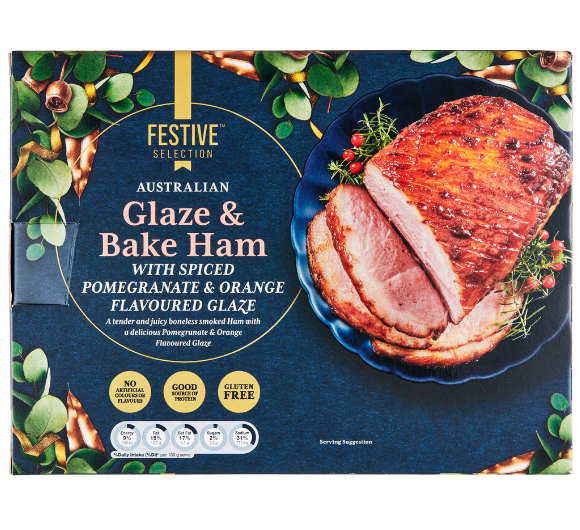 ALDI 2023 Christmas Turkey range
Available in the freezer section now:
Farmwood Turkey Breast Roast 1kg, $15.99
For those that don't want a whole bird, but still have big appetites, ALDI's breast roast is a winner. Delicious and ready to roast, made from Aussie turkey breast and marinated for extra succulence and flavour.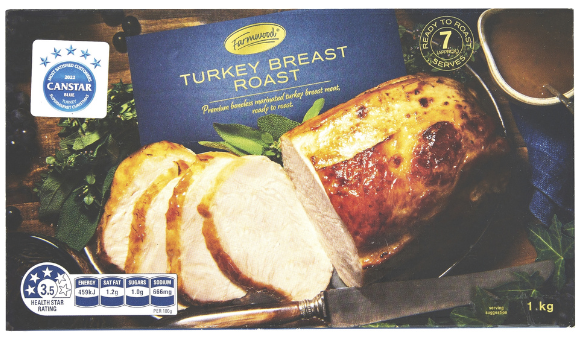 Farmwood Stuffed Turkey Breast Roast 1kg, $17.99
Delicious and ready to roast! Made from Aussie turkey breast, with a decadent cranberry and apple stuffing. Marinated for extra succulence and flavour.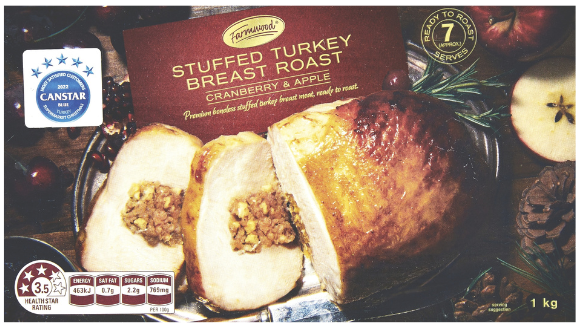 Whole Duck 2.2kg, $19.99
This ready to roast 2.2kg whole cooked duck is perfect to serve on a platter for the whole family.
Farmwood Whole Turkey 3.8kg, $29.99
This award-winning Whole Turkey is self-basting and serves up to fifteen people, making it the hero of the Christmas table.
Farmwood Turducken Roast 1.5kg, $29.99
A turkey tenderloin and duck breast wrapped in a de-boned whole chicken, this traditional festive favourite is complete with a sweet cranberry and apple stuffing that will have everyone coming back for seconds.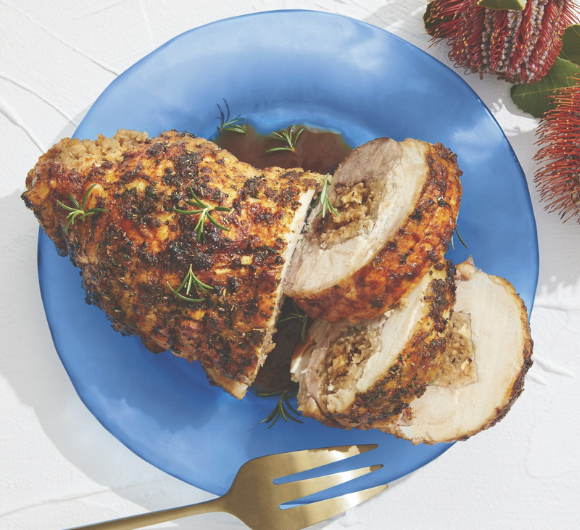 Earth Grown Vegan No Turkey Roast 350g, $6.99
This delicious no-turkey roast is stuffed with a cranberry, apricot, and pumpkin seeds, and wrapped in a soy and tofu coating with a BBQ flavour glaze.
Entertaining essentials:
Available now:
Specially Selected Danish Blue Salami 80g,​ $4.99
One is for the charcuterie lovers, the blue cheese adds a touch of 'oomph' to the salami.
Specially Selected Sliced Wild Boar Salami with Truffle 80g,​ $4.99
This seasonal salami with truffle will satisfy any Christmas cravings and is perfect on a cheese board.
Citterio Parma Ham Twin Value Pack (2x150g),​ $18.99
This thinly sliced ham uses only the finest Italian pork and sea salt.