ALDI is delighted to announce that nine of our exclusive premium spirit products have received medals this week at the 2018 Spirit International Prestige (SIP) Awards. Amongst these impressive wins is ALDI's 700ml bottle of Darley's Gin, retailing for $28.99, which won Gold and beat other top shelf gins in the same category*.
As we've developed our spirit range over the years, we've seen a growing trend in the popularity of white spirits in Australia.  ALDI's Darley's Gin offers shoppers a refreshing, balanced and classic style gin and is the perfect base product to use for any quality martini or gin and tonic. For a Gin & Tonic cocktail with a twist, check out this recipe.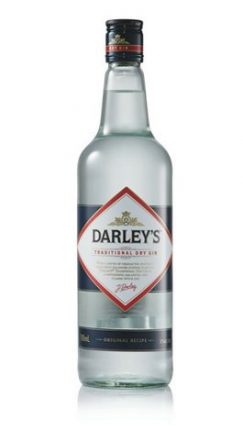 The SIP Awards, in their 10th year, are the only annual international spirits competition with consumer only judges. Products are judged through blind taste tests – levelling the playing field for established brands and newcomers alike. The awards provide brands with a rare opportunity to receive unbiased consumer feedback.
"The SIP Awards are a fantastic opportunity for ALDI to put our spirits in front of our most important critic – the consumer," said Paul Handley, Liquor Buying Director (Beer, Cider, Spirits and RTD's) at ALDI Australia.
Not only was our Darley's Gin a strong performer, ALDI's Highland Black 8 Year Old Blended Scotch Whisky also celebrated yet another top shelf win, taking home Platinum at this year's SIP Awards. The 700ml bottle of whisky for $34.99 has previously won a number of high-profile awards including Double Gold at the 2017 Melbourne International Spirits Challenge, as well as the best-in-class Masters award at both the 2014 and 2016 Scotch Whisky Masters**.
The award-winning eight-year aged scotch offers shoppers a beautifully balanced whisky with citrus, vanilla and ripe malty notes. Rich and smooth, the aftertaste is warm with a lingering fruit finish.
"At the end of the day, we know our customers are looking for a top quality product without the hefty price tag, and these results show we're continuing to deliver on that promise. Our unique offering is also why we've been named Australia's favourite liquor store," says Paul.
A number of ALDI's other high quality, great value spirits were put to the test at the 2018 SIP Awards and received the following medals:
Glen Orrin 30YO Blended Scotch Whisky 700ml, sold as a Special Buy for $99.99. Awarded Double Gold
This exceptionally blended scotch whisky has been traditionally distilled in copper pot stills, then matured for an incredible 30 years in handcrafted oak casks. Exciting flavours of citrus, marzipan and sherry with subtle hints of dark chocolate and fruits of the forest. An exceptional scotch at an unbeatable price! Hugely popular among ALDI shoppers in previous years, the Glen Orrin 30YO Blended Scotch Whisky will be returning later in the year as a Special Buy, so keep an eye out for it in our catalogue and newsletter.
O'Donnells Irish Cream 700ml, available as part of our everyday range for $13.99. Awarded Double Gold
A blend of the freshest Irish cream from County Tipperary, with natural flavours to create a delicious Irish Country Cream Liqueur. Enjoy O'Donnells straight, over ice, in coffee or with your favourite dessert. Find a cocktail recipe suggestion here.
Highland Earl Blended Scotch Whisky 700ml, available as part of our everyday range for $28.99. Awarded Double Gold
Absolutely unbeatable value for an award-winning Scotch! Created using the highest quality Speyside and Highland malt whiskies expertly blended together with grain whisky from the Lowlands of Scotland.
Duffey's Irish Whisky 700ml, sold as a Special Buy for $36.99. Awarded Double Gold
Masterfully crafted by one of Ireland's leading distilleries, using Irish spring water, Duffey's Irish Whisky has a refined, deliciously smooth and mellow flavour. It will be hitting shelves in the first half of 2019 as a Special Buy, but we promise you it will be worth the wait! Enjoy over ice or mixed with fresh lime juice and ginger beer.
Tamova Vodka 700ml, available as part of our everyday range for $28.99. Awarded Gold
The multi award-winning and Australian made Tamova Vodka is four times distilled and multiple filtered for exceptional purity and a clean, crisp natural flavour. Find a cocktail recipe suggestion here.
Bluegrass Bourbon 700ml, available as part of our everyday range for $29.99. Awarded Gold
Our award-winning authentic Kentucky Straight Bourbon Whiskey is charcoal filtered and slow wood aged the traditional way to create a smooth and rich flavour.
Baroque Brandy 700ml, available as part of our everyday range for $26.99. Awarded Gold
Judged Australian brandy of the year at the 2016 Melbourne International Spirits Competition. 100% Australian brandy.
ALDI Liquor is available in select ALDI stores in NSW, ACT, VIC and WA. This offering is designed to be an extension of the normal household shop. ALDI Australia shares concerns about the effects of alcohol consumption in the community and as such, is committed to organisations such as DrinkWise and Local Liquor Accords. To find out more about our Liquor range, visit ALDI.com.au.
*The SIP Award Results 2018.
**The Scotch Whisky Masters results 2014 and 2016. 
***Winner of Canstar's Most Satisfied Customers award in 2011, 2012, 2014, 2015 and 2016, Roy Morgan Supermarket of the Year in 2011, 2012, 2014, 2016 and 2016 Australian Retailer of the Year.