ALDI Australia is proud to reach a significant milestone in South Australia today, as we celebrate five years since we first opened our doors in the state.
Our first stores opened in Parafield Gardens, Hallett Cove, Seaford Heights and Woodcroft on 3rd February 2016. Today, we have 39 stores with plans for a further 11 stores over the coming years, with Stirling, Whyalla and Glenelg to open this year.  To operate our ever-growing footprint, we have employed 664 South Australians across our stores, our Regency Park based Distribution Centre and office, equaling to a state employment contribution of $43 million*. We anticipate our employment figure to reach 900 people as we continue to recruit even more locals.
In a short period of time we have been able to make a big difference to the local community. Since 2016, we have contributed more than $168 million to the South Australian economy* and are proud to serve over one million South Australian shoppers every month. Over the last five years, locals have been able to benefit from shopping our high quality groceries at everyday low prices, saving them $2.2 billion every year compared to if they shopped with major competitors*.
"We are delighted to reach this important milestone in South Australia. Our growth in the state has enabled ALDI to contribute to the local economy through our expanding workforce, close partnerships with local producers and manufacturers and growing customer base. We look forward to continuing our expansion in 2021, opening more stores and allowing even more shoppers to discover the difference ALDI can make to their wallets," said Viktor Jakupec, Managing Director, ALDI South Australia.
Our devoted South Australian shoppers have also developed a unique preference when it comes to their favourite ALDI products. As part of our 'The People's Picks' consumer voted awards program, local shoppers voted our Essential Health Paw Paw Ointment, Specially Selected Brioche Burger Buns, Beautifully Butterfully Salted Butter, Bakers Life Croissants, Di San Oxy Action Pre Wash Stain Remover and Bakers Life Wholegrain Wraps as some of their top-rated products.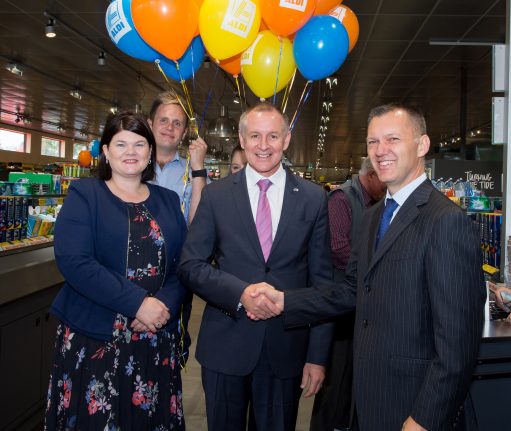 Our close partnership with 64 South Australian based business partners are also a significant reason behind our success in the state. From AG & HC Mason who supply fresh Pink Lady apples, and Zerella Fresh who grow fresh carrots, onions and potatoes for our stores, through to confectionary and pasta manufacturers, we are proud to partner with local businesses with a contribution to the economy totaling $80 million*.  Shoppers can easily spot local fresh produce including onions, Brussel sprouts, mushrooms and carrots with the "I Choose SA" logo, which is displayed on products in-store and in catalogue.
We are proud of our South Australian employees who are passionate about serving their local communities. Through our charity partnerships with OzHarvest, Foodbank and SecondBite, in 2020 alone our SA stores donated more than 513 tonnes of food to local charities, which is equivalent to over one million meals.
In December 2020, every ALDI employee was gifted $150 worth of gift cards to share with family and friends or to pay it forward. The teams at ALDI Smithfield and ALDI Blakeview were extremely generous and used their gift cards to purchase $1,500 worth of food and toiletries to donate to locals in need through not-for-profit charity, Cos We Care. The store teams also hosted sausage sizzles to give back to the community.
"We provided people with a pre-packed bag of toiletries, and an empty bag to pack with their choice of food. They were then offered a tea or coffee, a sausage, or a bacon and egg sandwich. It was a wonderful two days," said Dylan Garwood, ALDI Area Manager based in South Australia.