We are excited to announce that ALDI Port Adelaide is now open for business. The brand new store, our 30th in South Australia, represents an important milestone for us. It also demonstrates our commitment to South Australian customers, suppliers and workers.
We have come a long way since 2016 when we opened our stores in Parafield Gardens, Hallett Cove, Seaford Heights and Woodcroft. Since then, we have introduced local customers to the benefits of shopping at ALDI—incredible quality products at low prices. And so far, our South Australian customers are loving our 'good different' approach.
"We are thrilled to be opening our 30th store in South Australia within three years since we opened our very first store in the state. Our success in South Australia is evident in the growing number of local communities supporting our expanding store network. It's been a pleasure to witness locals become accustomed to our high quality, exclusive products as well as being able to shop local products they know and love, such as Spring Gully Foods products," said Viktor Jakupec, Managing Director, ALDI South Australia.
"We are also proud to be a driver of greater competition, with the presence of ALDI stores contributing to price deflation across the state. It's this difference that enables our continued success and we look forward to expanding into even more communities," added Mr Jakupec.
We have partnered with a range of local suppliers across numerous categories. Barossa Fine Food and Spring Gully Foods are just some of the suppliers that we work with in South Australia to bring consumers great quality products at the best possible prices.
And our commitment to South Australia and the local economy doesn't end there. In the three years we have been operating in South Australia we have employed 543 local residents. Working across our stores, distribution centre and corporate office, our staff enjoy industry-leading employment conditions, including clear career progression opportunities, generous leave entitlements and competitive remuneration. One of those employees is Lauren Hoskins.
A Store Manager at St Agnes, Lauren is a young South Australian who has benefited from ALDI's investment in the local economy and its people.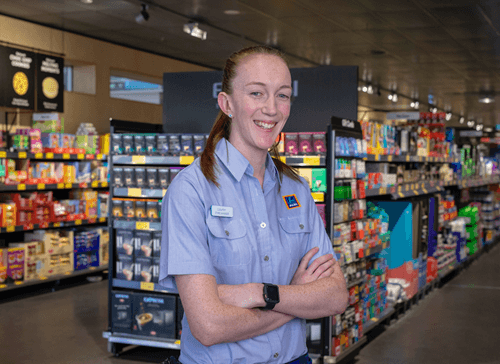 "I was two years out of high school and I was looking for more job stability," she says, recalling her decision to apply for a job with the new player in town.
"Over my three years at ALDI I've benefited from numerous training and development opportunities. Last year, I was lucky enough to be involved with the Future Leaders Program."
One of many internal training programs run at ALDI, the Future Leaders Program gave Lauren the skills and confidence required to manage a busy store.
"The Future Leaders Program played a huge part in preparing me for store management," she says.
"Run as a series of seminars, the course is really comprehensive and designed to provide us with the knowledge and skills we need in order to run a successful store."
Of course, Lauren is only one of many South Australians benefiting from our in-house training and progressive corporate culture. And with more stores on the way, we'll soon be welcoming more people to the family, and introducing more South Australians to the benefits of shopping at ALDI.
"Every day I hear stories about our customers telling their friends and family about ALDI and all the products they love," says Hoskins.
"I think that's great, but I want to see ALDI's great reputation spread even further. ALDI was voted the most trusted brand in 2018, and I would love to see more people take the leap and test the products themselves."
As it happens, Lauren won't have to wait long for that to happen. With three more ALDI stores slated to open in South Australia in 2019, including the highly anticipated Blackwood and Newton stores, we're confident that more and more locals will come to enjoy shopping at ALDI. And we're not stopping there. In 2020, we will open a further six stores, bringing our South Australian tally to 39.
But for now we look forward to welcoming local shoppers to our brand new Port Adelaide store, and giving them a taste of 'Good Different' and a great value supermarket shop.