ALDI Australia has launched its brand-new Curated Collection luxe Christmas range, featuring 21 premium products perfect for Christmas lunch, treats and gifts. The range will be priced from just $3.99 and available from 27 October and throughout the lead up to Christmas.
Sourced from leading producers in Australia and around the world, the range is the most premium collection of festive products made available by ALDI Australia. Bringing a new sense of indulgence to the festive table this year, the Curated Collection range will offer Aussies decedent products at affordable prices.
If you spend most of your year waiting for the release of Christmas puddings and cakes you won't be disappointed. ALDI has four luxurious fruit cakes on the menu, along with a delicious 10-month aged pudding finished in the Hunter Region in New South Wales, and a mouth-watering 30-month aged pudding from the United Kingdom infused with rum, ruby port and the finest French Armagnac.
The products in this range make for perfect Christmas gifts. Treat your friends and family with gourmet food, there's something for everyone to enjoy. With a suite of scrumptious treats they won't be waiting until Christmas morning to unwrap, including a smooth, crumbly fudge that comes in five irresistible flavours, deliciously creamy locally sourced nougat, heavenly Scottish shortbread, and even a popping candy and prosecco British honeycomb that explodes with flavour!
ALDI Shopping Expert, Kylie Warnke, says the new Curated Collection range is an exciting new step for ALDI to offer high quality Christmas products at unbeatable value.
"We're very proud to be releasing this luxurious Christmas range, allowing more Australians to treat themselves and gift to their friends and family for a premium festive experience this year. These products were carefully developed and curated in partnership with Aussie suppliers and those abroad, bringing together decadent flavours at the highest quality available so shoppers can be confident when picking out their holiday gifts and menus."
Traditional Christmas favourites
To truly embrace the Christmas spirit, pick up a classic seasonal favourite and live out your holiday dreams. The range includes luxurious fruit cakes, matured puddings and classic fruit mince pies starting at $3.99. Deck the halls and pop on your Santa hat – your traditional Christmas is here!
Luxury 10 month Vintage Christmas Pudding 700g (available in GF) – $14.99
Luxury 30 month Matured Christmas Pudding 907g – $19.99
The Luxury Vintage Christmas Pudding was finished in the Hunter Region from the finest ingredients and matured for 10 months, just in time for Christmas. This pudding comes with the added bonus of coming in a gluten-free version, so everyone can enjoy a sliver.
The 30 Month Matured Christmas Pudding is lavishly crafted with sweet, dried fruits, this UK pudding is laced with rum and ruby port and finished with the finest French Armagnac.
Christmas Fruit Cake 200g – $3.99
Christmas Fruit Cake 800g – $10.99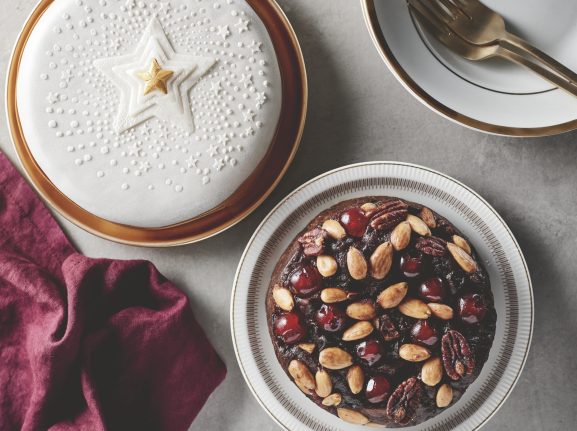 Christmas isn't Christmas without a fruit cake. For those with a tighter budget, this rich, Australian-made cake is the perfect choice. It was created with premium ingredients and finished with a crown of glacé cherries, almonds and pecans, containing an impressive 58% fruit products and nuts.
If you just can't get enough of fruit cake, the 800g luxury fruit cake is the way to go. With all the same rich goodness as the 200g version, but more!
Iced Christmas Cake 900g – $16.99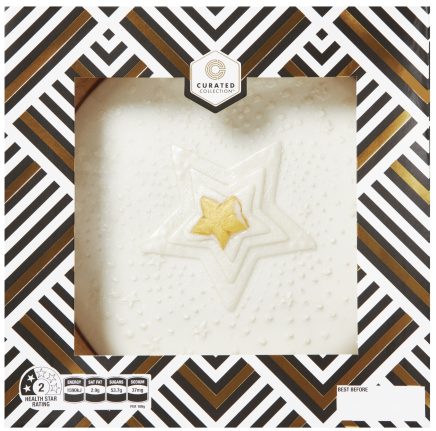 Made in the UK, this fruit cake is generously infused with fine brandy before being topped with a delicious layer of marzipan and soft white icing.
Christmas Cake Selection 9pk – $16.99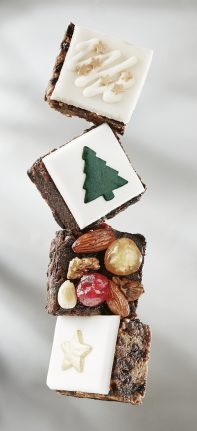 A selection of nine Christmas fruit cakes flavoured with butter, brandy or gin and topped with marzipan, a variety of cherries, icing and nuts delivered straight from the UK.
All Butter Fruit Mince Pies 6pk 348g – $4.99
If you're after authentic British fruit mince pie this festive season, then look no further. These all-butter fruit mince pies are made with an indulgent combination of brandy and cognac infused dried vine fruits, apple puree, glace cherries, cranberries and candied mixed peel, encased in a luxuriously crumbly, shortcrust pastry and finished with a sugar dusting.
Delicious festive treats
Representing the best of the best, this range of festive goodies covers both new and traditional Christmas favourites. Including Aussie made gourmet soft nougat and a range of specialty shortbreads produced in Scotland, ALDI shoppers will melt when they taste these luxe new holiday desserts.
Luxury Fudge 150g – $4.99

This delightful fudge was made in Yorkshire, UK. It is firm biting, slightly crumbly fudge and is cut into bite size pieces that delicately melt in your mouth. Simply irresistible! It comes in butter, clotted cream, gingerbread, salted caramel, and Canadian maple flavours.
Gourmet Soft Nougat 150g – $4.99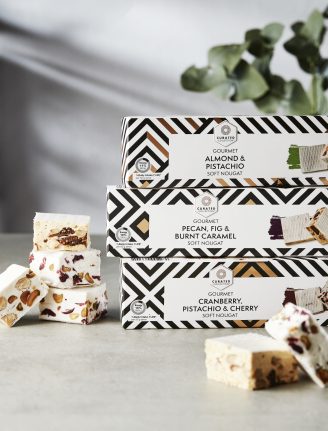 This nougat is locally sourced, using carefully selected ingredients to create a creamy, soft nougat with a perfect balance of flavours and textures. It comes in three flavours; almond and pistachio, cranberry pistachio and cherry, and pecan, fig and burnt caramel.
Handcrafted British Honeycomb 250g – $4.99
Made in the UK, this crunchy chewy honeycomb has been hand dipped in milk chocolate. It comes in plain milk chocolate, popping candy and prosecco, and salted caramel.
Luxury Butterscotch 125g – $5.99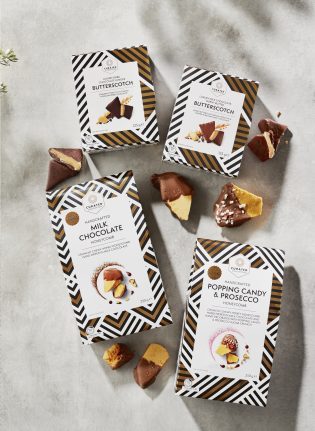 The luxury hand-broken butterscotch enrobed in smooth milk chocolate was made in the UK for a whole new level of decadence. It comes in burnt butter and ginger flavours.
Milk and Dark Salted Caramels Box 180g – $6.99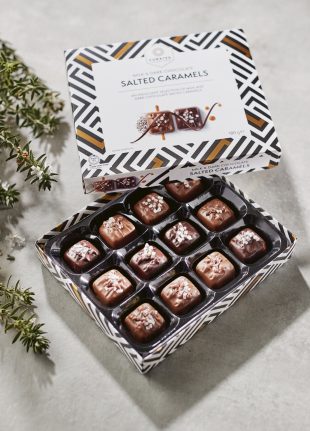 An indulgent selection of milk and dark chocolate salted caramels from Ireland.
Scottish Shortbread Fingers 360g – $10.99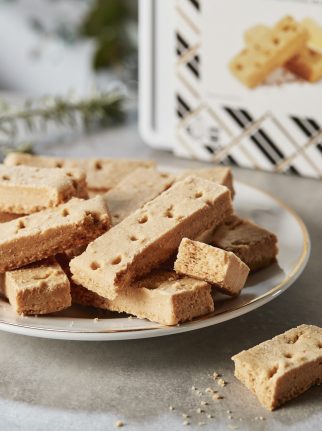 These traditional all butter shortbread fingers are slow baked for a light and crumbly texture and hand finished using a traditional recipe, made in Scotland.
Savoury seasonal hits
To add a little uniqueness to your seasonal menu, browse ALDI's savoury seasonal hits. This range will elevate your normal festive meals into something magical, with locally produced wild olives, roasted and salted mixed nuts for starters, and dukkah, finishing vinegar and premium extra virgin olive oil to add a splash of luxury to the main courses.
Mediterranean Style Dukkah 100g – $3.99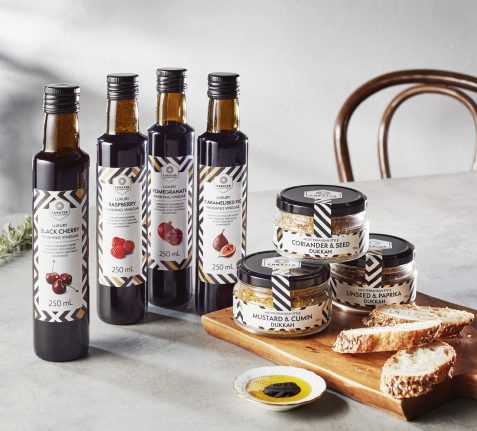 Wonderfully aromatic dukkah, made with fusions of herbs, seeds and spices from South Africa. It is nut free and extremely versatile as a crust, dip or sprinkle over meat, vegetables and salads for a burst of flavour and crunch.
Australian Wild Olives 300g – $5.99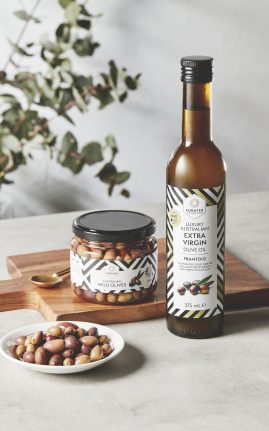 These wild Australian olives have come from self-sown trees, resulting in an intense mouth-watering flavour. The olives are hand-picked and brine-cured, using the traditional Greek method of fermentation in water, salt and a splash of vinegar. They are tiny but packed with flavour and are the perfect table olive to start off your Christmas meal.
Sweet Crispbreads Assorted 150g (available in GF) – $5.99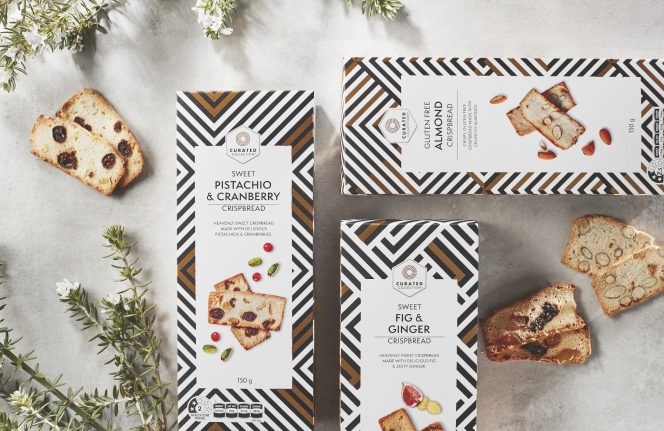 Heavenly, Australian-made sweet crispbread available in three flavour options: fig and ginger, pistachio and cranberry and a gluten-free almond.
Finishing Vinegar Assorted Flavours 250ml – $6.99
Premium Australian Extra Virgin Olive Oil 375ml – $7.99
Premium Australian Extra Virgin Olive Oil made from South Australian Olives. Available in Picual, Frantoio and Arbansana varietals.
A decadent finishing vinegar that is full bodied and balanced. This Australian-made vinegar comes in caramelised fig, black cherry, pomegranate, and raspberry flavours.
Roasted and Salted Mixed Nuts 400g – $12.99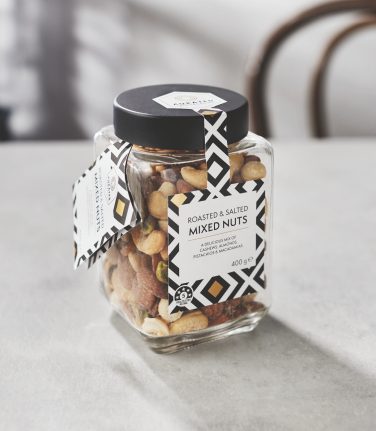 A selection of the finest quality nuts expertly sourced from around the world. The luxury nut mix contains locally grown Australian almonds and macadamias that are blended with jumbo cashews and pistachios. They are carefully roasted and lightly sprinkled with salt to create the perfect blend of crunch and flavour.
Specialty Coffee Beans 500g – $14.99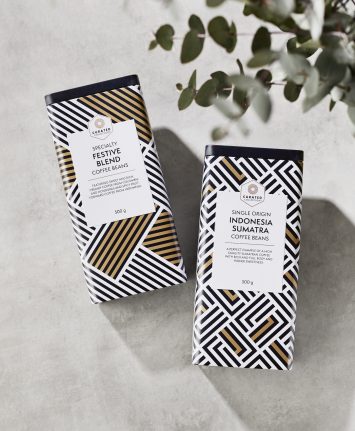 These beans come in two distinct flavours: The Festive Blend featuring sweet and rich creamy coffee from Columbia and Honduras and spicy fruit forward coffee from Indonesia; and the Indonesian Sumatra, a perfect example of a high-quality Sumatran coffee with rich and full body and higher sweetness.
Luxury Wagyu Biltong 200g – $19.99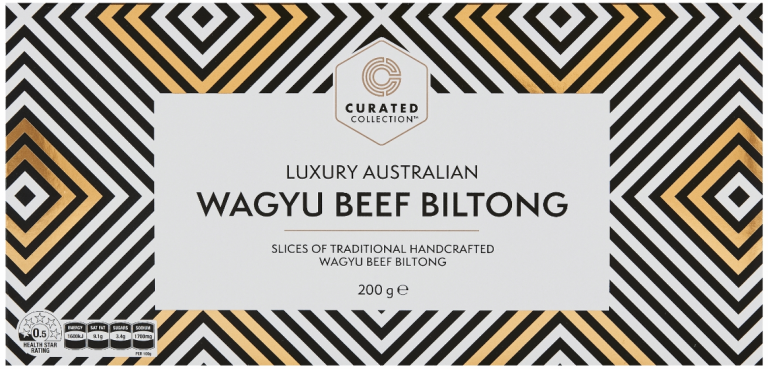 The Wagyu biltong has been made from premium 100% Australian Beef Wagyu. The extra marbling qualities of the Wagyu beef add to the overall flavour. It is beautifully presented in a premium gift box, making it the ideal gift for your favourite foodie.