We were delighted to hear from one of our shoppers, Michael, who recently shared feedback regarding our product range.

Like Michael, many of our customers are interested to know more about the quality of our products. Curious to know how our range has over 500 award winning products? We step inside the ALDI Test kitchen to find out.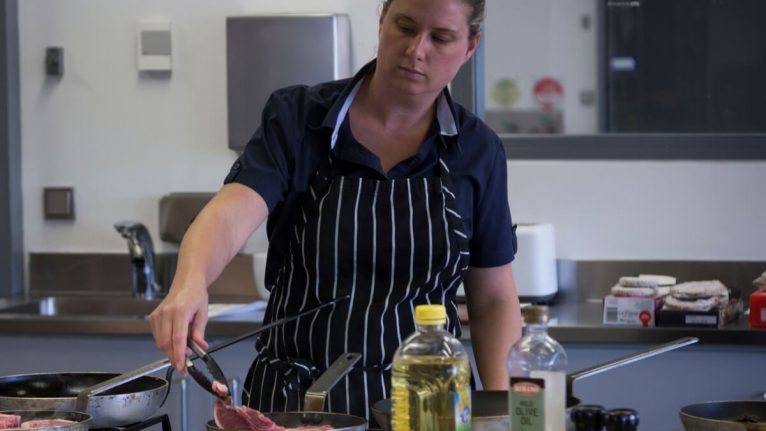 It's 12pm on a Thursday afternoon. ALDI's kitchen team is busily preparing, slicing and cooking products for the next sampling session, which will primarily feature products from our 100%  Australian meat range, along with peaches and cream.
Just like every other ALDI product, our meat range goes through a stringent quality assurance process to ensure it is exceeding the high standards our customers have come to expect. As part of this process, we continuously evaluate our fresh meat products for taste, size, fat specifications and marbling, marinade quality and cooking instructions to ensure they come out perfectly cooked, delicious and juicy every time.
Buyers responsible for products in this sampling session work with the Quality Assurance (QA) team to brief the kitchen on the ALDI products to be tested, so they can source the product straight from an ALDI store, in the same way a customer would. As well as these products, the kitchen team also head to other retailers to purchase the market products they are to be tested against.
"Our fresh from market approach ensures our sampling process and criteria retains its credibility," Daniel Baker, ALDI's head of QA explains. "This way, the products sourced are exactly the same as what a customer would buy in store."
The ALDI Test Kitchen is part of ALDI's Product Development and Quality Assurance Centre, which was opened in 2009. The centre has two primary purposes; product development, to test product before it is introduced into ALDI's range, and continuous testing, to ensure existing products continue to meet ALDI's high standards on an ongoing basis.
"Since opening our first stores in 2001, we've had a stringent process in place to sample our products, ensuring they are of the best possible quality," explains Daniel. "But we've improved the process over the last 17 years.  We started with 600 products, and now we almost have 1,500. So we built a specialist facility that can support existing products being tested multiple times per year, and the new products we are continuously adding to our range. Our weekly Special Buys also go through the same stringent process."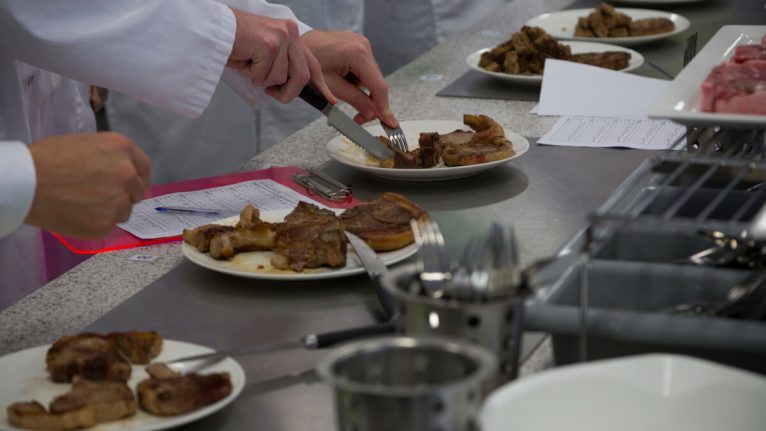 Back in the kitchen, the team of professional chefs are busy cooking the meat, and preparing the creams and peaches to be tested in this session.  Once ready, the Buying team responsible for the products will attend. Other departments are also often invited to these sessions, to ensure a wide representation of tastes and preferences are on hand and to give their opinion.
Everyone dons white coats before beginning. They then start to move around the room, beginning with the plainest meat products and moving towards those with marinades, before progressing to the peaches and cream. Every tasting session is organised to suit the palate.
"You wouldn't want to taste a slice of white bread after chilli con carne, for example," Daniel explains.
When experiencing a sampling session for the first time, you immediately notice that the room is pleasantly quiet.  Once cued, the sampling participants don't waste a second as they start tasting the first product in line and carefully jotting down notes. "We have strict  sampling guidelines in place to ensure everyone has the opportunity to best focus on their palate," Daniel says. "We also don't want people to influence other people's assessment of the product."
ALDI's product is blind sampled against other products on the market for three key attributes: taste, appearance and texture. Each product, and its competitor, is given a score out of 10.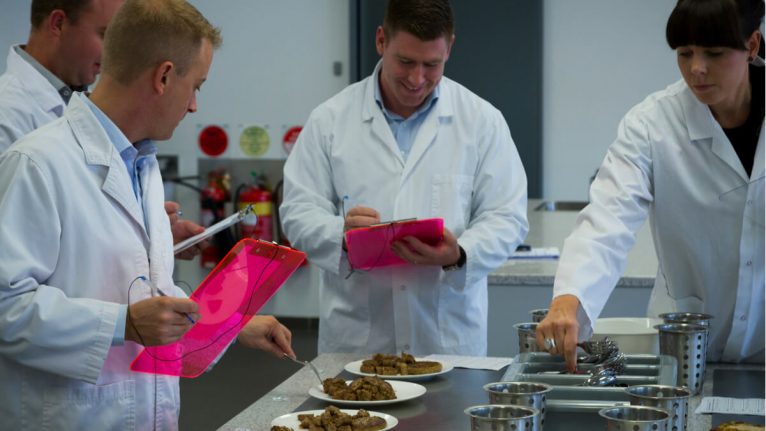 An important element of the tasting sessions is the presence of an ALDI QA Technician, who is on hand especially when the buying team decides a product needs work.
"The QA Technicians are qualified in food science and they're available to discuss the buyer's feedback and make suggestions about how the product could be improved," Daniel says.
In this session, the QA Technician notes that one of the marinated chickens has caramelised to the point of burning. He brings in the chef to consult on the cooking process, confirming the product was prepared according to the instructions on the packaging.
"If this was an ALDI product, we'd go back and review the cooking instructions, or the marinade, to ensure the product could be cooked perfectly," Daniel explains.
"For example, we recently had an issue with a bacon product, where the team just didn't feel it tasted flavoursome enough. We didn't want to increase the salt, so we adjusted the cut of the meat, which would make it tastier. The QA Technician was able to make that assessment looking at the balance of ingredients and the nutritional profile of the product."
If a product requires reformulation, the Buying team will work closely with suppliers to make those changes to the product. Since the majority of our products are sourced from Australian suppliers, the process for reformulation can be relatively quick and the product will be back in the sampling process for retesting within a few weeks.
In his role as head of Quality Assurance, Daniel spends several hours per week inside the ALDI Test Kitchen. "I like tasting just about everything. I get no more excited about sampling chocolate than I do a tin of sardines," Daniel says. "For me, it's the excitement of looking at our range of products and the satisfaction I know that we have a product that looks and tastes far better than its competitor, at as much as half the price."
With ALDI's range continually expanding and changing with consumer needs, ALDI's Test Kitchen is only set to get a lot more exciting. Next time you shop a new product from ALDI's range, know that it didn't just appear there, in fact it's been through quite a journey to land a spot on ALDI's shelves.