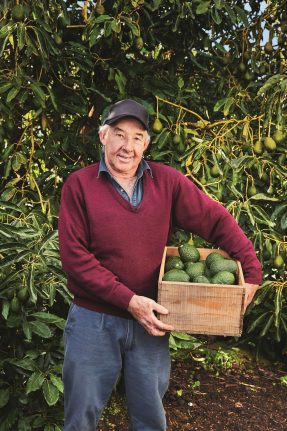 Growing local economies
Partnering with local growers and suppliers is, first and foremost, a way of giving our customers the freshest, best quality products on offer. So when we decided to open ALDI supermarkets in a new state, such as WA in 2016, it relied on establishing local business partnerships. After meeting with the locals from Wanneroo to Margaret River, we settled on a core group of business partners that we could count on to provide our stores with top quality fruit and veg, bread and dairy.
We've come a long way since our initial conversations with local business partners and now partner with over 80 WA based businesses who supply everything from bread to yogurt. In 2018 alone, ALDI's presence in the Western Australian market led to an economic contribution of $139 million. Our business partners, like Delroy Orchards and many others, contribute to a total of over 550 locals being employed in the state, and many of these business partners are growing and creating more opportunities in their local communities.
"In the three years since opening our first ALDI in Western Australia we have grown from a network of four to 41 stores – this sees us over halfway through our total planned network of 70 stores," said Caroline MacPhail, ALDI Managing Director of Western Australia.
"ALDI WA proudly supports the local food and beverage industry in Western Australia. When you see the Buy West Eat Best logo on food packaging in our stores, you know that it has been grown, farmed or produced in WA and by purchasing the products, you are helping support local businesses and the development of the state," added Caroline.
Buy West, Eat Best
Shoppers in Western Australia will find a wide range of locally grown Western Australian produce in ALDI stores including beef, tomatoes, mushrooms, cauliflower, celery, apples, cucumber and carrots. You can be sure your fresh produce has been grown in WA by looking for the 'Buy West, Eat Best' logo in our catalogue and on products found in our WA stores.
Other products sold at ALDI that are locally produced include, Brownes Vanilla Bean Yogurt and Bramwells Western Australian Honey. A large range of breads including ciabatta, pane di casa, sourdough, Turkish pide, Turkish rolls, Vienna loaf, Rye loaf and pizza bases are also made locally by Turkish Bakeries for our stores in Western Australia.
Meet some of our WA farmers who've partnered with ALDI
Delroy Orchards, Pemberton, WA
Bevan Blackers, a grower for Delroy Orchards in the South West of Western Australia, swears by his guacamole and crackers as a filling, healthy snack. And judging by the number of avocados he's producing for ALDI's WA stores, it sounds like he needs the energy.
Last year, Delroy Orchards supplied our stores with 40,000 trays of Hass Avocados. That's about one million little nuggets of green goodness! But it's no surprise—the Delroy orchard is situated in ideal avocado growing country.
"The South West region produces avocados from September through to March every year," says Bevan. "The warm Mediterranean climate is ideal for producing the best quality avocados for the Australian summer season."
It's just as well. With our appetite for avocados showing no signs of slowing, Bevan says that he and Delroy Orchards are planning ahead, planting more trees to cater to growing demand.
"We're planting non-stop," he says. "With each tree taking 7-8 years to reach production, we have to keep moving to make sure we can keep up."
Key Produce, Carnarvon, WA
The growers at Key Produce have a huge task, suppling tomatoes for ALDI stores in Western Australia. If you've purchased tomatoes from one of our WA stores, we can guarantee it has come straight from the small coastal town of Carnarvon. There are many reasons why tomatoes are a staple for many Australian families. The vibrant and versatile fruit can be eaten cooked or raw, and used in a variety of recipes from salads to drinks. And you can't go wrong with fresh homemade tomato sauce for your pasta dishes!
Since we opened our first store in the state in 2016, we have sourced Gourmet, Cherry and Grape, Truss and Roma tomatoes straight from the Key Produce farm, situated at the mouth of the Gascoyne River.
The Carnarvon region plays a particularly important role in the supply of fresh fruit and vegetables during the warmer months, due to its moderate, tropical climate.
Quality produce guaranteed
We know how important quality is to our customers, particularly when it comes to fresh food. Our Quality Management System (QMS) was designed to ensure that all fresh food sold at ALDI, including fruit and vegetables and meat, is the best possible quality, and it is fully operational in Western Australia.
"ALDI's QMS is important for a few reasons," says ALDI's Quality Assurance Director, Scott Tyler. "Firstly, it gives us confidence that the fresh produce and meat sold in ALDI stores is excellent quality and up to our customers' standards. So, that means happier customers. But from a business point of view, it also helps us sell through more and waste less, which is always a good thing."
At our Jandakot Distribution Centre, QMS ensures that the fresh produce that makes its way to stores is first rate. The Distribution Centre has a team of highly trained WA based Quality Control personnel whose job it is to check every fresh food delivery from suppliers before approving it to be sent to stores. How does that process work? Let's take a look.
1.The taste test
If you think this involves simply taking a bite out of an apple as it comes off the truck, think again. ALDI QCs use a Brix meter to measure sugar levels. The result must meet a certain measurement before it is accepted and goes through its next round of testing.
2.Looking good
QCs have Quality Attribute Sheets—Q-A-S for short—to help them work out if the produce that just came in is the right colour. For example, red varieties of apples will have to be a certain shade of red to pass our standards.
3.Tough as
There's nothing worse than soggy fruit and veg. That's why our QCs have a special piece of equipment to help them determine whether or not produce is firm enough to accept. It's called a densimeter, and only once produce is deemed ripe enough can it be sent on to stores.
There's no doubt that QMS is a rigorous, time consuming process. But what it means is that the fresh produce on offer at ALDI is as good as it gets.
It is our mission to ensure that our customers get to enjoy the best fruit and vegetables out there. Best of all, our focus on local means that our growers and suppliers benefit from long-term partnerships and fair terms of trade. And local communities across Western Australia benefit from increased investment. Who would have thought that by simply adding fresh produce from ALDI to your trolley every week, you can contribute to Western Australia in such a big way.