ALDI's annual customer voted awards, The People's Picks, is back with the supermarket calling on customers to have their say in selecting Australia's top ALDI products for 2023.
From August 30, customers can vote for their must-have ALDI items across eight categories via this link. Not only will voters get the chance to spotlight their most coveted products, by submitting a pick, each voter will automatically go into the draw to win $10,000 worth of ALDI gift cards (10 x $1000 ALDI gift cards up for grabs).
ALDI Australia's Shopping Expert, Kylie Warnke, said: "The People's Picks is a fantastic way to share all your top products and best-kept secrets. Think of every fakeaway meal that cuts down prep time at dinner, to the secret laundry hero that keeps clothes fresh, or the kids' favourite lunchbox snack they can't get enough of – don't gatekeep, the rest of Australia wants to get the most out of their weekly shop too! With two new categories this year, we can't wait to see what our shoppers are loving and see what comes out on top, so get voting!"
Some of the nominated products in this year's awards are already repeat winners, including the Greek style Urban Eats Spanakopita, the deliciously sweet Choceur Caramel Filled Milk Chocolate, and Aussie-made Essential Health Paw Paw Ointment.
This year, ALDI has introduced TWO new categories to the mix: The Socialite and The Aussie Made Fave. Excitingly, there are four industry award-winning products in The Aussie Made category, including Lazzio Medium Dark Coffee Beans, The Olive Tree Australian Extra Virgin Olive Oil, Tamova Vodka and even a $12.99 Barossa Valley Shiraz.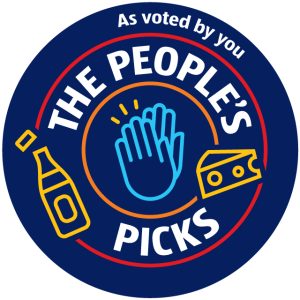 The shortlisted products are revealed below:
The BBQ Boss: It's time to grab life by the tongs. Enjoy the mightiest marinades and even mightier meats because these are the Boss of the backyard BBQ.

Ready, Set… Cook! Marinated Lamb Leg Steaks, $23.99 per kg
The Fresh Salad Co Lentil Tabbouleh 500g, $6.49
Ready, Set… Cook! Chicken Kebabs 800g 10pk, $11.49
Ready, Set… Cook! Marinated Chicken Wings 1kg, $7.49
The Fresh Salad Co Creamy Pesto Pasta Salad 500g, $6.49
Specially Selected Pork Sausages 500g $7.99
Bon Appetit Sesame Seed Brioche Burger Buns 200g 4pk, $3.29
Colway Spicy BBQ Barbeque Sauce 500ml, $1.89
Brannan's Thin Sausages 1.8kg, $10.99
Jindurra Station Porterhouse Steak 200g, $7.00

The Socialite *NEW*: Stealing hearts and a staple in shopping carts, these Socialites are well worth the hype. You love 'em, we love 'em and they're plastered over your social feed for a good reason.

Ready, Set… Cook! Boneless Butterflied Chicken, $8.99 per kg
Urban Eats Spanakopita 750g, $8.99
Storck Knoppers 200g 8pk, $3.99
Bramwell's Choc Hazelnut Spread 400g, $2.49
White Mill Triple Choc Fudge Brownie Mix 500g, $3.19
Choceur Caramel Filled Milk Chocolate 200g, $3.49
La Mule Rose 750ml, $12.99
Specially Selected L'Ovale French Cheese 300g, $5.99
Blackstone Deli Style Honey Soy Chicken Chips 200g, $2.99
Urban Eats Prawn Gyoza 750g, $9.99

The Aussie Made Fave *NEW*: You may not realise, but these Aussie Made Faves journey from all over the country for you to enjoy. Struth mate!

Willowton Free Range Chicken Thighs, $16.49 per kg
Australian Beef 21 Days Ages Eye Fillet Steak, $48.99 per kg
Essential Health Paw Paw Ointment 25g, $2.49
Urban Eats Gozleme 300g, $4.99
Blackstone Paddock "The Player" Barossa Valley Shiraz 750ml, $12.99
The Olive Tree Australian Extra Virgin Olive Oil 1L, $10.99
Tamova Vodka 700ml, $33.99
Lazzio Medium Dark Coffee Beans or Ground Coffee 500g, $8.49
World Kitchen Chinese Style Peking Duck Pancake Kit 590g, $13.99
Juliet Shower Gel 1L, $4.29

The Lunchbox Legend: The envy of the schoolyard, these Lunchbox Legends are always first to go and last to be discarded to the depths of school bags.

Belmont Biscuit Co. Choc Chip Teddy Tots 250g 10pk, $2.99
Blackstone Vegetable Straws 110g, $2.99
Chazoos Popcorn 200g 10pk, $2.59
Brooklea Yogurt squishy 70g, $0.69
Snackers Market Colby Cheese & Crackers 100g 4pk, $3.99
Belmont Biscuit Co. Fruit Bakes Forest Fruit Flavour 218g, $2.99
Snackers Market Cheese Bites 20g 5pk, $2.99
Snack & Go Hommus Dip and Crackers 65g, $1.69
Hillcrest Oat Bars 240g 6pk, $2.99
Hillcrest Fruity Filled Bars 225g 6pk, $2.39

The Good Health Heroes: Have you met our Health Heroes? They're packed with on-the-go goodness to fuel your body and mind as you power through the day.

Bakers Life Lower Carb Higher Protein Bread 600g, $4.99
Forresters Almond Meal 400g, $5.99
Earth Grown Firm Tofu 450g, $2.79
Imperial Grain Microwave Brown Rice 250g, $1.89
Yoguri Protein Yogurt 160g, $2.19
Goldenvale Power Grain 560g, $4.49
Health and Vitality FIT Chicken and Pesto Penne with Green Vegetables 330g, $6.99
So Natural Wholefoods Black Chia Seeds 350g, $5.99
Health and Vitality Shepherd's Pie 400g, $4.69
Orchard & Vine Frozen Sliced Strawberries 1kg, $8.99

The Time Lord: Master the art of the midweek meal with these tasty feeds that are high quality and higher in convenience. These are your Time Lords.

Urban Eats Roti Paratha 640g 8pk, $4.29
International Cuisine Beef Lasagne 2kg, $11.99
Urban Eats Meal Kit Pad Thai 368g, $4.99
Seasons Pride Potato Gratins 400g 4pk, $3.99
El Tora Meal Kit 410g/495g, $4.29
The Best Margarita Pizza Ever 365g, $6.49
The Cake Stall Banana Bread Sliced 500g 5pk, $5.49
Bakers Life Authentic Belgian Waffles 360g 4pk, $5.69
The Fishmonger Hot Smoked Salmon 150g, $7.49
International Cuisine Butter Chicken 375g, $3.49

The Life of the Party: From fancy fromage to superior spreads, these snacks are the Life of the Party and you'll always be coming back for more.

Emporium Selection Smooth Blue 200g, $5.49
Deli Originals Fresh Hommus 200g, $2.29
Monarc Indulge Gourmet Ice Cream Cookies 560ml 4pk, $4.99
El Tora Salsa Dip 300g, $1.39
Veuve Olivier French Sparking Wine 750ml, $8.99
Berg Sliced Prosciutto 100g, $4.49
Berg Hot Hungarian Salami 100g, $1.99
Damora Satisfied Snacking Specialty Crackers 100g, $2.99
Sweet Haven Chocolate Bavarian 450g, $3.99
Emporium Selection Spanish Manchego Cheese 150g, $4.99

The Partner in Grime: When the sludge won't budge and the muck can't be unstuck, these Partners in Grime are here to help.

Power Force Pro Bath & Shower Cleaner 750ml, $2.49
Anco Soft Fabric Softener 2L, $2.99
Power Force Pro Crème Cleanser 500ml, $2.79
Power Force Anti Bac Plus Disinfectant Wipes 100pk, $4.69
Power Force Mould Away 500ml, $2.79
Tandil Ultra Concentrate Dishwashing Liquid 900ml, $2.99
Trimat Advanced Concentrated Laundry Liquid 2L, $9.99
Green Action Multi Purpose Cleaner 600ml, $2.99
Confidence Paper Towel Pick A Size 2pk, $2.69
Di-San Laundry Soaker 1kg, $3.69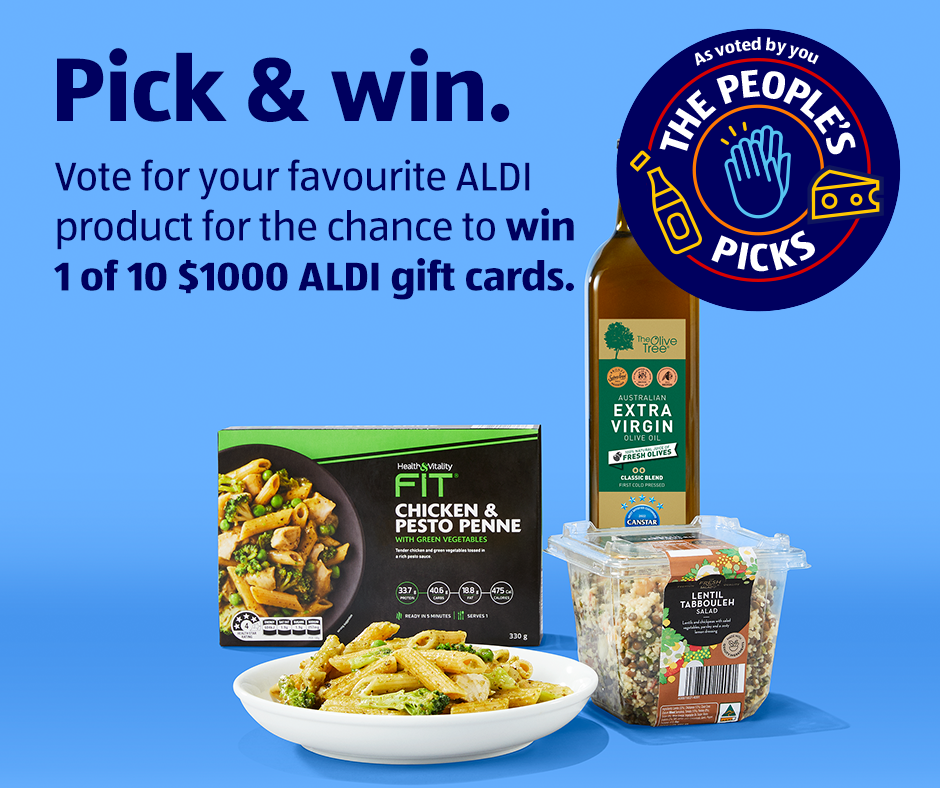 Voting is open now and will close at 11:59pm 13th September 2023.
Follow this link to submit your picks.
All will be revealed in October, when the winning products from each category are announced.