It might be the biggest question of the official 'Chocolate season'; what do Aussie's prefer? The Bunny or the Egg.  Well ALDI's newly appointed 2022 Chocolate Taste Testers in partnership with ALDI's national charity partner Camp Quality – Jonas, aged 11; Lila, aged 8 and Isabelle, aged 4 – answer this universal question once and for all, all while ranking every ALDI chocolate in the range this Easter.
Watch their 2022 ALDI Chocolate Review here:

"This year we're excited to hear more from our customers with the kind of chocolate they enjoy and what the real favourites are this Easter. We have an amazing range featuring affordable mini eggs perfect for Easter egg hunts, through to richer  varieties with our dark and truffle chocolate" says Adam Millauro, Buying Director for Seasonal Chocolate at ALDI Australia.
"Our official Chocolate Taste Testers have provided some fantastic feedback on our popular seasonal range. It was great to see the variety of chocolate that were hits and maybe good to see some of the more indulgent chocolate will be left for parents to enjoy".
To Egg or not to Egg? That's the ultimate Easter question
According to THOUSANDS of respondents via an ALDI Australia Instagram poll, Aussies are absolute eggheads, with 66% saying they prefer eggs over bunnies! Expert Lila, 8-years-old, echoes the findings: "The hollow milk chocolate eggs are one of my favourites, I could eat this all day!" she confirmed.
Whether it be our smaller Dairy Fine Milk Chocolate Solid Eggs ($4.99) the bigger, hollow eggs in our Dairy Fine Easter Chocolate Hunt Bag ($3.99), or even the Moser Roth Mini Easter Eggs ($2.99), taste testers Jonas and Isabelle are also aligned that Chocolate eggs are what the Easter Bunny should be delivering this year.
Hold onto your ears though, because bunnies are not extinct just yet. Just over one third (34%) of Aussies still prefer a classic bunny, which resident expert Isabelle firmly agrees with. "I love how cute the bunny is, and the chocolate is also yum," Lila continued, referring to the Choceur Belgian Chocolate Easter Bunny ($5.99).
When it comes to the Easter egg, more is more. But which flavour reigns supreme?
When it comes to favourite flavours for chocolate eggs there's a clear winner – classic milk chocolate, which just under half of respondents (44%) said is their go-to Easter chocolate. Next up was caramel with 1 in 5 (22%) saying it was their egg of choice, with dark chocolate surprisingly close behind with another 20 per cent declaring that this adult favourite is a winner. Chocolate reviewer Jonas, 11-years-old, heartily disagrees with this portion of chocolate lovers, declaring he "doesn't know how adults eat it".  Fair enough, Jonas.
After trialling ALDI's range of chocolates, Jonas agreed that classic milk chocolate is always a winner:   "Easter is one of my favourite times of the year, especially when all the chocolate comes out! I love milk chocolate most, and also white chocolate, but I know straight away when I taste dark chocolate – and not a fan…" he said.
White chocolate came in at the bottom of the list with just 14% saying it is their favourite Easter egg flavour.
Saver or tummy-acher?
Possibly the most divisive question of all – do you eat all the chocolate over Easter or save some for later? When asked if they are splurgers or savers, Aussies were split down the middle, with a narrow majority of 52% opting for a weekend burst of indulgence.
When we asked our ALDI Australia Easter chocolate taste testers on their own positions, the results were similarly divided. Jonas and Isabelle firmly agree that Easter is for eating chocolate, with Jonas saying, "I sometimes try to save a few, but I normally eat all my chocolates pretty quickly. I always look in the back of the cupboard after Easter though and find a few hidden choccies left."
The same position was not shared by Lila, however, who revealed some free advice: "Always save most of the chocolates to have later. You have to hide them well though so no one else eats them first!"
So, whether you prefer eggs or bunnies, milk or dark, splurging on the day or saving your chocolates for later, be sure to hop into your local store before the day to make sure your Easter basket is full this year! You can also check out Jonas, Lila and Isabelle's official reviews in this video.
ALDI Australia is an official partner of Camp Quality and have been delighted to work with them to find the best chocolate tasters in the country to put our range to the test.  ALDI began its partnership with Camp Quality in 2020 to help change the cancer story for Australian families. To date, ALDI has donated $1.5M to Camp Quality and raised a further $2.25M enabling 2,250 kids impacted by cancer to attend a Camp Quality Kids' Camp.
Range Reviews from the Experts
Choceur Belgian Chocolate Easter Bunny 160g
Price: $5.99
Official Taste Tester Ranking: 10/10
Available for a limited time only
Jonas says: "It's cool and I like the design. I'll say this caramel is better and the white chocolate is good too. I like the white chocolate."
Dairy Fine Caramel Crunch Eggs 350g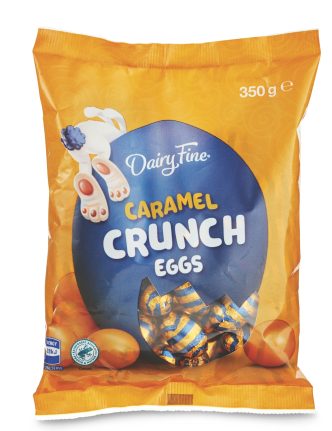 Price: $4.99
Official Taste Tester Ranking: 8/10
Available for a limited time only
Jonas says: "It's very crunchy and it just melts in your mouth."
Lila says: "I think it's beautiful."
Dairy Fine Milk Chocolate Eggs 500g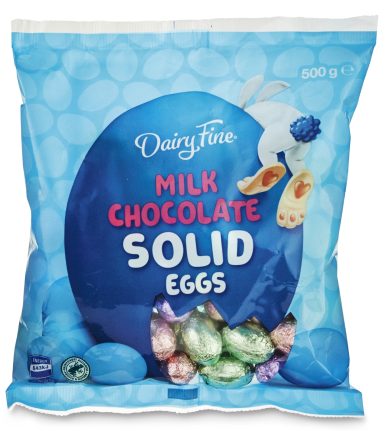 Price: $4.99
Official Taste Tester Ranking: 10/10
Available for a limited time only
Lila says: "I love eggs. This is very yummy and I like the packaging too."
Choceur Flame Egg 325g

Price: $8.99
Official Taste Tester Ranking: 11/10
Available for a limited time only
Jonas says: "I like this one. The big egg. It's very good."
Moser Roth Finest Easter Eggs 122g/125g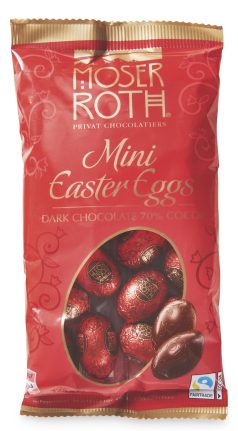 Price: $2.99
Official Kid Taste Tester Ranking, a predictable 4/10 (Good news, for all adult chocoaholics who don't like to share)
Available for a limited time only
Jonas says: "I don't like dark chocolate, I don't know how adults can eat this…"
Lila says: "What is truffle? I don't like it very much."