When Dora and Stella Sykalos were children, they spent part of their school holidays helping their parents make Greek shortbreads. Ever since, Dora and Stella have been closely involved in the family business, Handy Foods.
Dora's parents, Marianna and Nick Sykalos, started Handy Foods in 1995, just a year after moving to Australia. Coming from the bread industry back in Greece, the Sykalos' saw an opportunity in homemade pastry retailing. They started their business in Australia with a family recipe that had been passed on from generation to generation.
In the beginning, the Handy Foods team was just Marianna and Nick. They baked shortbread early in the morning, then packed them up, and sold them from noon until 8pm.  Their passion for traditional baked goods saw them knocking on the door of every corner shop in Sydney to find new customers.
In 2005 and with 8 employees, Handy Foods signed one of its biggest deals ever – a partnership with ALDI. Almost 13 years later, the company has sold more than a million Greek shortbread and baklavas through the partnership with ALDI.
Recipe for success
"With ALDI, year-on-year sales have always grown consistently, which has helped us to grow our company," Dora says.
Handy Foods first partnered with ALDI to supply shortbread. Today, it supplies baklava as well as almond shortbread for ALDI's Special Buys.
"We are delighted that ALDI has trusted our company and products for all these years. We have developed a great relationship, and as a result our volumes keep increasing every year," said Dora.
ALDI is equally pleased with the outcome of the partnership, recognising that Handy Foods are more than just a supplier.
"We have worked with Handy Foods for many years and they are a great partner, committed to supplying us with the best quality product every time," said Monique Avdalis, Buying Director for the biscuit category.
"Whilst ensuring the integrity of the product is never compromised, they are always focused on continuous improvement and take great pride in every biscuit they produce for us."
The Handy Foods factory has also evolved along with the company's growth. The Sykalos family started Handy Foods at a small site in Sydenham. But as the business grew, they were able to move to a couple of bigger locations. In 2009, they moved their factory to Marrickville – their current location – and two years later, they built an extension to fit double-rack ovens and robotics.
"We are hoping to grow our relationship with ALDI, and look forward to working together to develop new and exclusive products for its stores," explains Dora.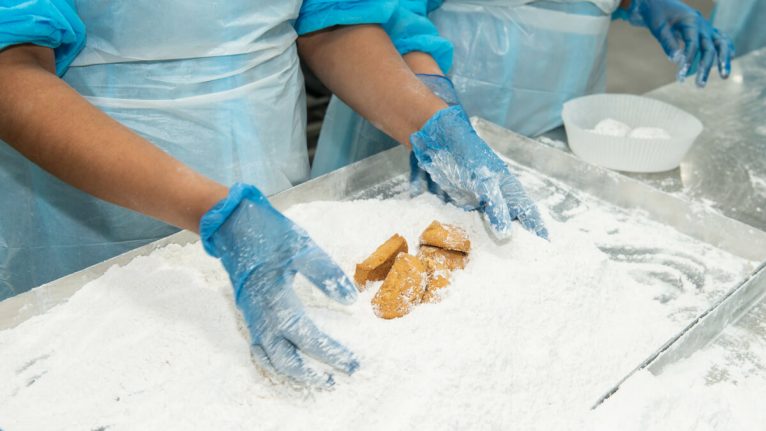 Born and raised
Although Handy Foods now has 30 employees, it remains a family-run business. Today, Nick and Marianna still work at the company along with Dora, Stella and their husbands Jim and Lee.
The family recipe and the traditional homemade taste are still the cornerstone of Handy Foods. While the volume of products has increased, the Sykalos family continue to make products in small batches to maintain the high quality of everything they produce.
"What differentiates Handy Foods from others out there is the quality of our ingredients and the passion we put into everything we do," said Dora. "We use 100% butter in our almond shortbread and we don't compromise on quality."
"A significant amount of the baklava and shortbread making process continues to be done by hand. This has not changed, even though our partnership with ALDI has resulted in delivering larger orders", added Dora.
The Sykalos family holds the title of the first company to retail Greek shortbread in the Australian supermarket industry, and Dora's six-year-old son wants to make sure Handy Foods continues with the family tradition. He proudly tells his teachers at school that he is going to be a "business man" when he grows up.