Introducing the country's best filter coffee – and there's no surprise that it's from the coffee capital of Australia: Melbourne (sorry New South Wales)!
In our latest award-win, ALDI's Lazzio Medium Roast, created by Australian based Black Bag Roasters, was awarded top spot at the Golden Bean Competition in the Chain/Franchise Filter Coffee category.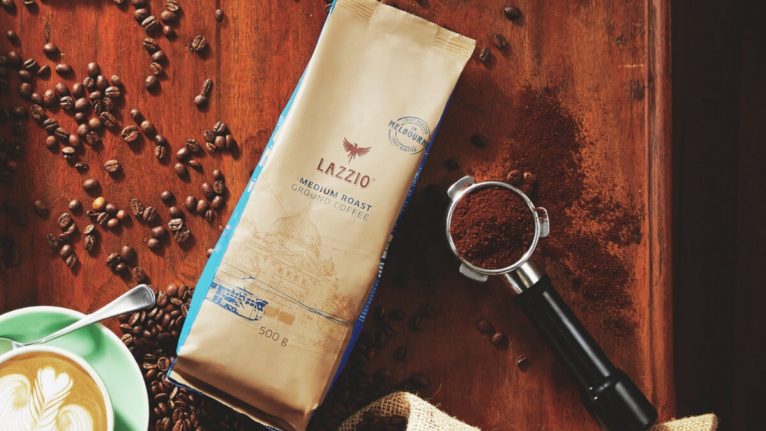 The team at Black Bag Roasters is responsible for creating this aromatic award winning coffee.  We first partnered with Black Bag Roasters in  December 2014 and it's been an exciting four years since. We have worked in collaboration to develop and create a unique coffee range including our Lazzio Medium and Dark Ground Coffee, Lazzio Dark Coffee Beans and Lazzio Brazil and Colombia Single Origin Bean coffee.
Based in Richmond, Victoria, Black Bag Roasters have been in operation for 14 years – and they know their coffee! The business is so serious about creating quality coffee that they have a team of Q graders (someone who is certified to grade coffee) who taste test hundreds of coffees every month to select the best ingredients for the ALDI blends. This sounds like a job to envy, but a lot goes in to ensuring ALDI customers enjoy every sip of their morning coffee beyond taste testing the blends.
"The partnership between Black Bag Roasters and ALDI has been a huge success. Together we are able to offer some of the freshest coffee in the supermarket space, in part due to the efficient ordering and delivery process in place," explains Lance Brown, General Manager at Black Bag Roasters.
"Every Lazzio roast is tendered to by a close-knit and passionate team of award-winning roasters. The process begins at the origin of the bean, where our Green Bean Buying team work direct with farmers to grow the highest quality coffee varietals for picking and processing. To ensure every cup of Lazzio coffee is as delicious and consistent as the last, our Q Graders cup the coffee at origin and again once it arrives in Australia," added Lance.
The success of the supplier partnership is also affirmed by the Buying team at ALDI.
"We developed the Lazzio Coffee range after noticing that our customers wanted a café experience at home. Our partnership with Black Bag Roasters has enabled us to develop award-winning products that have won over many ALDI shoppers. Black Bag Roasters' commitment and passion is evident in the quality and freshness of the coffee they produce. We look forward to continuing our partnership and producing quality coffee blends into the future," says Amy Lewis, Buying Director at ALDI Australia.
The commitment to quality coffee doesn't stop at winning awards. The Black Bag Roasters team have been working closer than ever with ALDI's Corporate Responsibility team to meet ALDI's 2020 sustainability goals. In close alliance with their coffee farmers, Black Bag Roasters are committed to being sustainable in all aspects of production, from green coffee sourcing, roasting and packaging, to warehouse, logistics and waste management.
"Working with the ALDI team over the past four years has been an amazing experience. In just a few short years the Lazzio blends have grown from strength to strength, as evidenced in our recent Gold Medal award-win at the Golden Bean Competition," says Lance.
Lazzio Coffee isn't the only product bringing home medals. Quality is important to us, which is why we partner with more than 1,000 Australian suppliers to create award-winning products. In fact, over 500 products from our every day range are award winners.
The Golden Bean Competition took place as part of the Golden Bean Coffee Conference and Awards, the largest Roasters coffee event in the world, with over 1,400 entries from in excess of 400 roasters. In addition to winning Gold, Lazzio Coffee also took out the following awards:
Silver Medal – Franchise/ Chain Milk Category – Lazzio Medium Roast
Silver Medal – Franchise/ Chain Espresso Category – Lazzio Medium Roast
Bronze Medal – Single Origin – Lazzio "Colombia"