ALDI's Christmas Seafood Selection is here to help Aussie shoppers plan a summer seafood feast that won't break the bank. Think lobster, scallops, salmon, prawns and more… for less!
A seafood spread has long held a cherished spot on Australian Christmas tables, which is why ALDI has worked closely with its trusted partners to offer seafood staples and gourmet options at the lowest possible prices this festive season.
Tried and tested must-haves are back this year including the Lobster Tails with Garlic Butter Glaze (2pk/$34.99), 1kg Frozen Australian Tiger Prawns ($26.99), and Extra-Large Scallops wrapped in Maple Flavoured Bacon (6pk/$13.99) making it easier than ever to serve 'shrimply the best' seafood spread ever.
ALDI Australia's Shopping Expert Kylie Warnke says ALDI's 2023 seafood selection has been curated with quality, ease of preparation, and affordability in mind for Aussie families.
"Our incredible seasonal seafood selection is back! Expect to see the return of lobster tails and our Aussie tiger prawns, and best yet, with prices starting at just $6.99, we have tasty seafood options to suit every budget."
"ALDI's frozen seafood range offers a convenient option for customers looking to plan ahead this festive season, with additional fresh seafood products to be made available in time for Christmas Day. ALDI has taken the hard work out of food prep so you can spend less time cooking and more time socialising with these opulent yet convenient freezer feasts!" says Kylie.
ALDI 2023 Seafood Selection: Available from 25 October
++ Entertainers Delight ++
Ocean Royale Lobster Puff Pastry Canapés 8pk/240g ($6.99)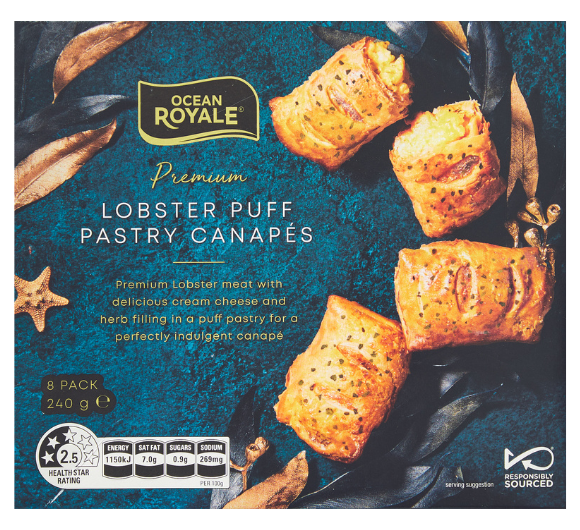 Premium lobster meat with delicious cream cheese and herb filling in a puff pastry for a perfectly indulgent canapé.
Kylie says: "We're delighted to once again bring our customers lobster at a budget-friendly price. These tasty canapés will wow the taste buds and impress guests."
Ocean Royale Smoked Salmon and Cream Cheese Puff Pastry Canapés 8pk/240g ($6.99)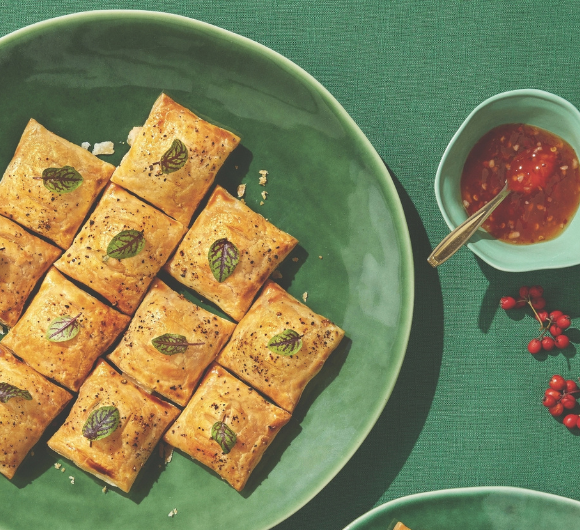 These Premium Smoked Salmon with a cream cheese and herb filling are a easy to prepare but have maximum impact for Christmas entertaining.
Kylie says: "Our smoked salmon and cream cheese puff pastry canapés are great for a tasty treat when you're short on time. Pop them in the oven and they're ready! Excellent for an entertaining option when guests drop by, or for an entrée to a festive dinner feast."
Ocean Royale Extra Large Scallops with Maple Flavoured Bacon, 6pk/270g ($13.99)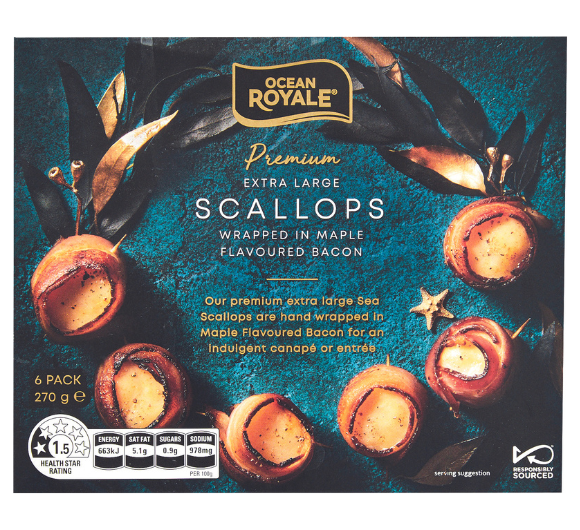 Look no further for easy entertaining than these extra-large scallops wrapped in maple flavoured bacon.
Kylie says: "Our bacon wrapped jumbo scallops are always a hit. At just $13.99 they offer a touch of decadence without the decadent price tag."
++ The Main Feature ++
Ocean Royale Lobster Tails with Garlic Butter Glaze 2pk/380g ($34.99)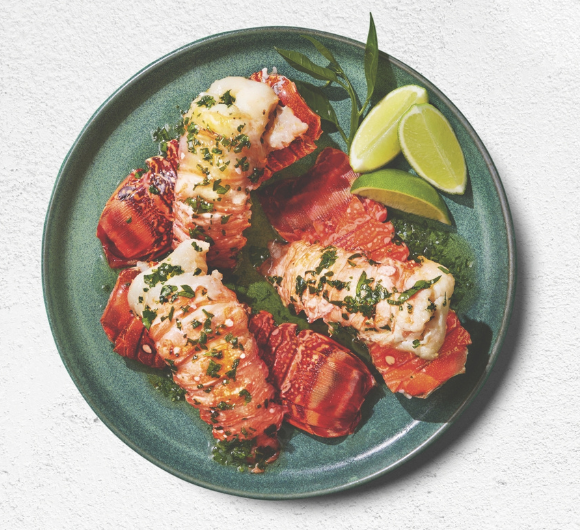 These tender and succulent lobster tails are seasoned with butter, garlic and lemon juice, making them the perfect luxury addition to any festive table.
Kylie says: "If you're looking to add a little extra something-something to the table, these lobster tails will elevate your dining experience to new levels of sophistication. We know that they are a customer favourite to celebrate this fun time of year."
Ocean Royale Garlic & Herb Butterflied Prawns 400g ($13.99)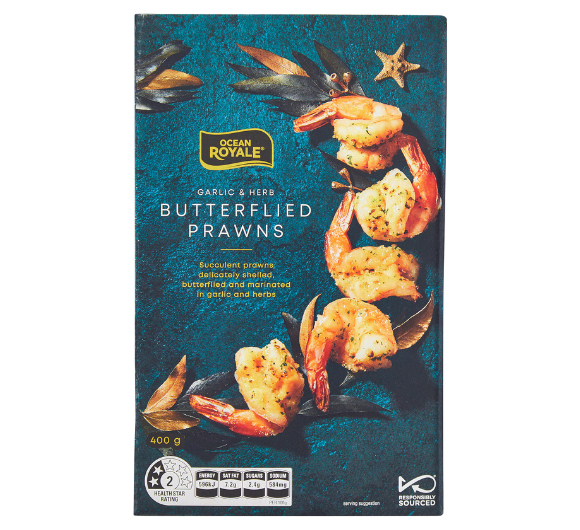 These succulent prawns are shelled, butterflied, and marinated in garlic and herbs.
Kylie says: "Perfect as part of your seafood platter on the big day or serve on their own, tossed with some spaghetti, cherry tomatoes and parsley for a midweek dinner when you're short on time during the silly season."
Ocean Royale Salmon Wellington with Cheese and Dill Sauce 700g ($15.99)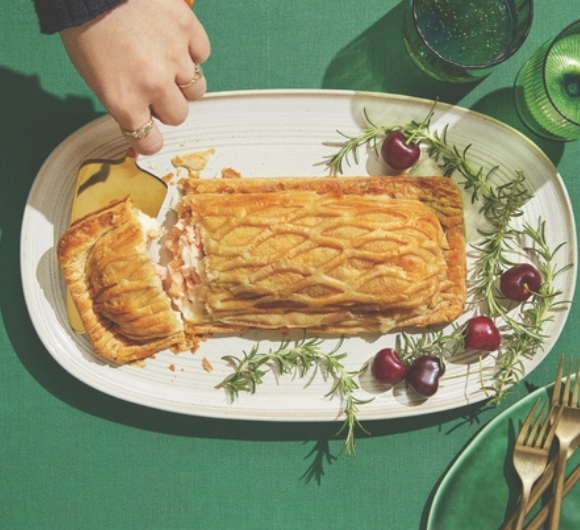 Atlantic salmon in a rich cheese and dill sauce, delicately wrapped in crispy puff pastry.
Kylie says: "These salmon wellingtons are showstoppers in their own right! An entertainer's dream that is easy to prepare and packs a flavour hit. Wrapped in flakey pastry means even the kids won't shy away from giving it a try."
Ocean Royale Atlantic Salmon Side with Toscana Style Herb Crust 700g ($22.99)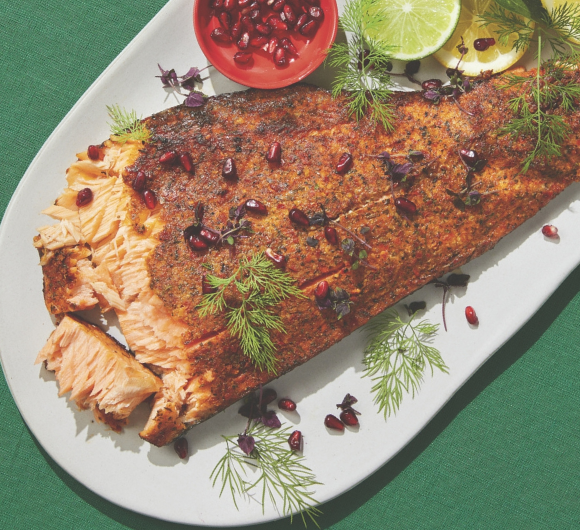 Responsibly sourced whole natural Atlantic salmon fillet with skin, seasoned with a Toscana herb crust.
Kylie says: "With enough for six servings, this simple but delicious option is a real crowd pleaser! Minimum effort required, maximum deliciousness ensured! I love it on the barbeque, which is just the taste of Summer."
Ocean Royale Large Australian Tiger Prawns 1kg ($26.99 per kg)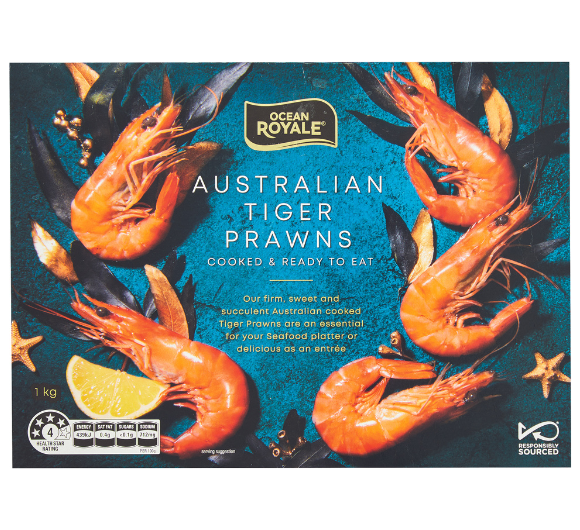 Is it even Aussie Christmas without this essential? These Australian cooked tiger prawns are firm, sweet, and succulent.
Kylie says: "These delicious Australian tiger prawns are a Down Under festive institution. Snap frozen and found in the freezer section, these prawns can be thawed and then are then ready to eat – cooking required."