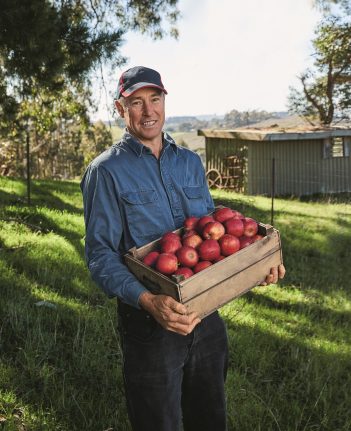 Growing local economies
Partnering with local growers and suppliers is, first and foremost, a way of giving our customers the freshest, best quality products on offer.  So when we decided to open ALDI supermarkets in a new state, such as SA in 2016, we relied on establishing local business partnerships. After meeting with the locals from Murray Bridge to Virginia, we settled on a core group of business partners that we could count on to provide our stores with top quality fruit and veg, bread and dairy.
We've come a long way since our initial conversations with local business partners and now partner with over 60 SA based businesses who supply everything from confectionary to pasta. In 2018 alone, ALDI's presence in South Australia led to an economic contribution of $168 million. Our business partners, like AG & HC Mason and many others, contribute to a total employment of over 579 locals, and many of them are growing and creating more opportunities in their local communities.
"We have grown in our three years since opening in South Australia. We now have 31 stores and support 519 direct jobs in the state. We are especially proud of our partnerships with local businesses, which last year resulted in a contribution of $80 million to the South Australian economy," said Viktor Jakupec, Managing Director of South Australia.
"As a supporter of local SA business, we display the I Choose SA logo on food products that are grown, farmed or produced in the state.  By purchasing these products, our shoppers will know they are helping to support local business and state growth," added Viktor.
I Choose SA
Shoppers can find a range of locally grown produce in our SA stores including apples, broccolini, mushrooms, onions, carrots, potatoes and mandarins. You can be sure your fresh produce has been grown locally by looking for the 'I Choose SA' logo in our catalogue and on products found in our SA stores.
Renowned products by local business Spring Gully Foods can also be found in our SA stores. Originally supplying honey to ALDI, since our expansion into the state Spring Gully Foods now supplies a range of branded products including Sweet Spiced Gherkins and Pickled Onions.
Meet some of our SA farmers who've partnered with ALDI
AG & HC Mason, Forest Range, SA
Stephen Mason's family has been growing apples for six generations on their farm in Forrest Range, South Australia, so it's no surprise that he's more than a little enthusiastic about his produce.
"I can eat apples all day," he says. "Apples are a great, healthy food that can be eaten anywhere, anytime."
The Mason's family-owned and operated outfit produces 1,000 tonnes of apple varieties suited to ALDI's stores every year from their farm in the Mount Lofty Ranges. The clay loam soil produces crisp, flavoursome apples that are just as good cooked as they are freshly picked, according to Mason who shared a family recipe with us.
"Peel Pink Ladies, cut in half, remove the centre core with a spoon leaving a hole to hold a teaspoon of honey in each half, and bake. Serve with ice cream!"
Mason might have an apple bias, but we have to agree—his apple and ice cream dessert does sound pretty good.
Zerella Fresh, North Adelaide Plains, SA
Zerella Fresh farms span from the Northern Adelaide Plains through to the Mallee Region. Zerella Fresh supply ALDI's South Australian stores with carrots, onions and potatoes. Every week Zerella delivers fresh carrots, onions and potatoes to our distribution centre where they're sorted and tested before being sent on to stores.
All of the produce supplied by Zerella is grown with minimal environmental impact. 85% of Zerella Fresh farms are situated in the Mallee Region, not far from the Riverland on the Victorian border. The location offers sandy loam soils which are not only great for growing but allow for easy harvests. On top of that, long soil rotations and a reliable underground water supply means that Zerella Fresh is able to minimise its inputs resulting in sustainable farming as well as high productivity all year round.
By maintaining farms in different parts of South Australia, each with their own climatic conditions, Zerella is able to supply ALDI with fresh produce 52 weeks a year. Take carrots and potatoes. Zerella harvests both vegetables 6-7 days a week, year round, by utilising different growing regions. That means an uninterrupted supply of local produce for ALDI customers in South Australia. And all of it is washed, packed and transported within hours of harvest to our distribution centres where the quality management process begins.
Quality produce guaranteed
We know how important quality is to our customers, particularly when it comes to fresh food. Our Quality Management System (QMS) was designed to ensure that all fresh food sold at ALDI, including fruit and vegetables and meat, is the best possible quality, and it is fully operational in South Australia.
"ALDI's QMS is important for a few reasons," says ALDI's Quality Assurance Director, Scott Tyler. "Firstly, it gives us confidence that the fresh produce and meat sold in ALDI stores is excellent quality and up to our customers' standards. So, that means happier customers. But from a business point of view, it also helps us sell through more and waste less, which is always a good thing."
At our Regency Park Distribution Centre QMS ensures that the fresh produce that makes its way to stores is first rate. The Distribution Centre has a team of highly trained SA based Quality Control personnel whose job it is to check every fresh food delivery from suppliers before approving it to be sent to stores. How does that process work? Let's take a look.
The taste test
If you think this involves simply taking a bite out of an apple as it comes off the truck, think again. ALDI QCs use a Brix meter to measure sugar levels. The result must meet a certain measurement before it is accepted and goes through its next round of testing.
Looking good
QCs have Quality Attribute Sheets—Q-A-S for short—to help them work out if the produce that just came in is the right colour. For example, red varieties of apples will have to be a certain shade of red to pass our standards.
Tough as
There's nothing worse than soggy fruit and veg. That's why our QCs have a special piece of equipment to help them determine whether or not produce is firm enough to accept. It's called a densimeter, and only once produce is deemed ripe enough can it be sent on to stores.
There's no doubt that QMS is a rigorous, time consuming process. But what it means is that the fresh produce on offer at ALDI is as good as it gets.
It is our mission to ensure that our customers get to enjoy the best fruit and vegetables out there. Best of all, our focus on local means that our growers and suppliers benefit from long-term partnerships and fair terms of trade. And local communities across South Australia benefit from increased investment. Who would have thought that by simply adding fresh produce from ALDI to your trolley every week, you can contribute to South Australia in such a big way.