Today, ALDI Australia's transition to 100 per cent renewable electricity has been independently verified by the Federal Government's Clean Energy Regulator following the release of its 2023 Corporate Emissions Reduction Transparency (CERT) Report. The verification recognises ALDI's continued efforts towards making a good difference for both people and the planet.
ALDI is one of 25 large Australian companies participating in this year's report, which is the second to be published by the Clean Energy Regulator.
Daniel Baker, Sustainability Director at ALDI Australia says, "Sustainability is placed firmly at the core of ALDI's values and operations, that is why we have an ongoing commitment to making a good difference for our planet. Given our focus and passion for our climate and energy commitments, ALDI is thrilled to have contributed to the CERT Report, making it easier for our customers to find verified data on our climate commitments and progress.
"We are proud the report has recognised these efforts as ALDI continues to lead the way as one of only a handful of companies featured in the report to have fully transitioned its operations to 100 per cent renewable electricity sources."
ALDI Australia's renewable energy focus doesn't end in its own backyard, with the ALDI SOUTH Group (which includes ALDI Australia), making significant progress towards reducing its global emissions. The ALDI SOUTH Group recorded an overall emission reduction of 56 per cent across its operations from its baseline year in 2016, far exceeding its ambition to reduce overall emissions by a quarter by 2025.
In 2021, ALDI achieved its commitment to power its operations with 100 per cent renewable electricity, six months ahead of schedule. ALDI was the first and currently is the only supermarket in Australia to power all offices, stores, and warehouses using only renewable electricity sources, with its competitors aiming to achieve the same result by 2025.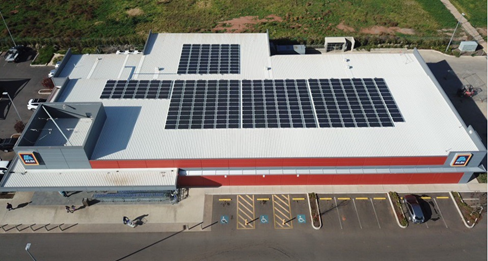 At the centre of ALDI's transition to 100 per cent renewable electricity are the Power Purchase Agreements it holds with three Australian wind farms. The benefits of these agreements have been two-fold for ALDI, supporting its sustainability targets and helping to bring down operational costs over the long-term.
Achieving ALDI's renewable electricity commitment was a critical step towards reducing its impact on the environment and ALDI is continuing to look at ways to further cut back on its energy usage. To do so, wall chillers in selected stores will be retrofitted with fridge doors to keep products chilled more efficiently.
Following the success of fitting five initial stores in New South Wales with chiller doors, ALDI Australia is now rolling out the new chiller doors in an additional 15 stores across Victoria, Queensland and Western Australia. Refrigeration across ALDI stores accounts for 20 per cent of our total electricity usage and early results suggest this change could lead to a reduction in refrigeration energy usage of approximately 30 per cent. Customers in these states will start seeing the doors fitted from late September this year.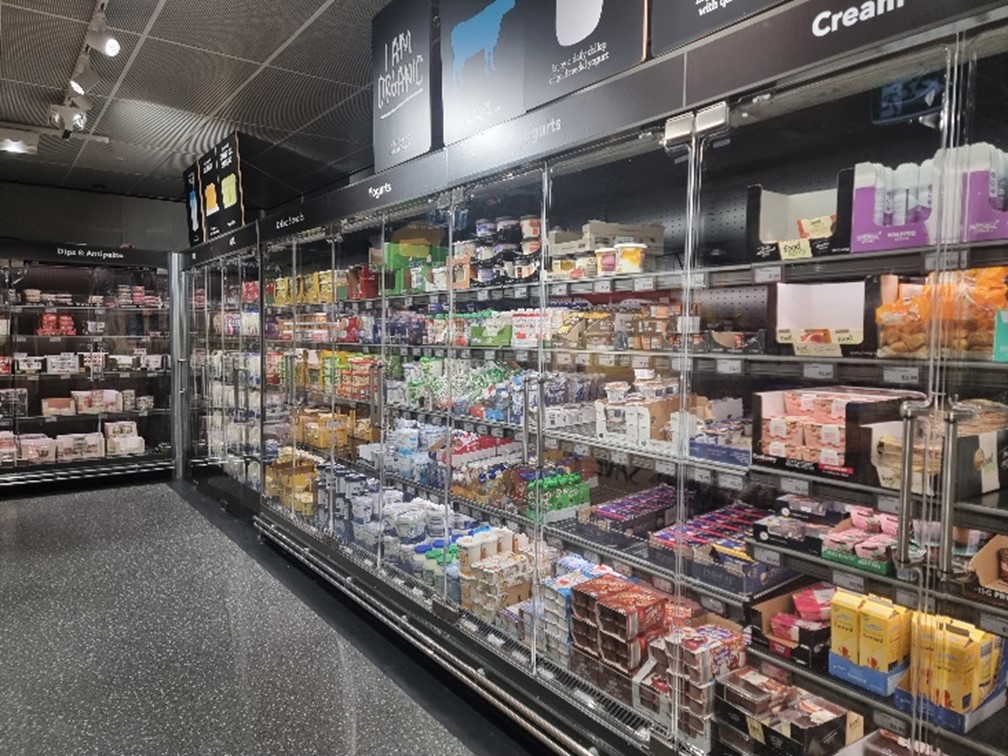 ALDI Australia is also continuing to expand its network of solar panels across 25 additional freestanding stores over the next 18 months. The expansion will have the ability to provide an additional 3,400 megawatt hours (MWh) every year.
ALDI Australia currently has more than 105,000 panels fitted across 270 stores and six of its Distribution Centres, which would cover more than 6,700 acres of land. In 2022, its solar panels generated more than 40,813 megawatt hours (MWh) of renewable electricity, enough to power over 7,800 Australian homes.
"As one of Australia's largest grocery retailers our responsibility to reduce our impact remains front of mind," Baker continues.
"The steps we're taking in utilising renewable electricity epitomises ALDI's ongoing commitment to Making a Good Difference. Not only are we reducing our impact on the planet, we're also bringing down our operational costs so we can continue passing these savings onto our customers. It makes great business sense and ensures we're continuing to deliver the highest quality groceries at the lowest prices."
Learn more about our sustainability initiatives, including our most recent sustainability report, here.