With apartment living on the rise, and more of us living in smaller homes, storage space can be hard to come by, especially in the kitchen. But ALDI's Compact Cookware range, on sale Saturday 7th September, has been designed to make the most of small spaces.
"We know that storage space is precious for lots of households, so we designed a range of cookware to suit the modern day kitchen," says Matthew Suckling, Buying Director at ALDI Australia.
"The range is made from quality materials and features smart design elements, like detachable handles and flat lids for ease of storage."
The clever handles clip in and out easily, making the pots and pans incredibly easy to put away once you've cooked up a storm. The cookware is also lightweight and durable, with a non-stick coating to ensure quality and functionality. With a range of pots and pans on offer, you'll be able to stock your kitchen without stuffing your cupboards.
Best of all, you can have a practical kitchen at an affordable price with the pans, pots and utensils costing just $175 for the full set.
Frypan (28cm $29,99, 24cm $24.99)
Every kitchen should have a decent frying pan, and this one comes in two handy sizes. Ideal for searing meat and stir-frying, and featuring an ILAG Ultimate non-stick surface and handy detachable handle, these frying pans are real winners.
Casserole Pot 24cm ($29.99)
Perfect for hearty casseroles, goulash and even pasta bakes, this 4.4L Casserole Pot is incredibly versatile. It also features a clever, integrated straining port in the lid which doubles as a steam vent, and an ILAG Ultimate non-stick surface.
Sauté Pan with lid 28cm ($39.99)
With higher sides and a clear lid, this 28cm Sauté Pan is great for classics, like spaghetti bolognese and reducing sauces. It has a 4L capacity, a practical parking function on the lid which prevents water marks on your benchtop, and an ILAG Ultimate non-stick surface.
Grill Pan 28cm ($29.99)
This 28cm Grill Pan is a great alternative to your BBQ and those heavy, cast iron skillets. Featuring an ILAG Ultimate non-stick surface, the Grill Pan does crispy skinned fish, tender steaks and tasty vegetables.
Premium Silicone Utensils ($3.99)
Keep your non-stick surfaces scratch-free with our silicone utensils. The range includes a Slotted Turner, Skimmer, Serving Spoon, Spatula and Nylon Tongs.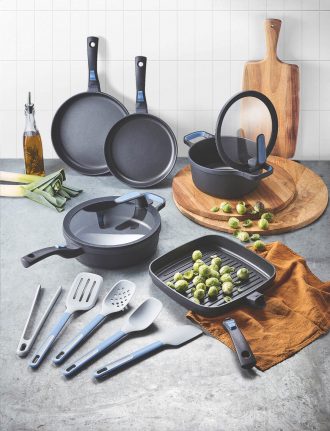 In addition to the Compact Cookware range, there are some other great kitchen appliances coming to your local ALDI store. Two of our favourites are the Mistral Thermo Cooker ($299) and the Air Fryer ($149.)
Mistral Thermo Cooker ($299)
Offering amazing convenience and available at a fraction of the cost of other pricey appliances, the Mistral Thermo Cooker ticks all the boxes. It features a 2L stainless steel bowl, integrated scale function and a 10-speed, 800W motor. With Stew, Mix, Knead and Fry functions on board, the Thermo Cooker does it all. It also comes with a 3 Year warranty.
Air Fryer ($149)
Air Fryers are all the rage, and with good reason. Clean, fast, and easy on the oil, this multifunction 10L Air Fryer is great for frying, roasting, grilling, baking and dehydrating.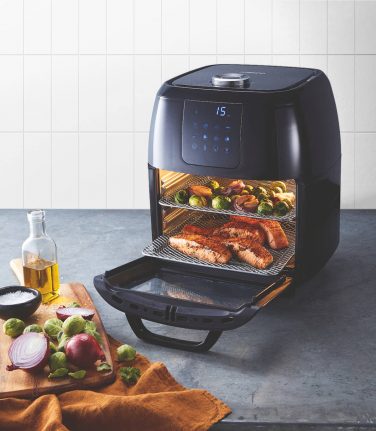 So if space is at a premium in your kitchen, be sure to check out the Compact Cookware range at ALDI on Saturday 7th September. Thanks to some clever design—and amazing value— you'll be able to have your casserole pot and your sauté pan, too.