With Father's Day just around the corner (Sunday 2nd September), now's the time to start planning the perfect meal for Dad.
Not sure where to start? Not a problem.
This Father's Day, ALDI's got you covered with a Super Saver that's sure to tickle Dad's fancy. It's the Big Daddy Steak and it's being sold for the first time ever, from Wednesday 29th August, while stocks last.
Sourced locally from award-winning Aussie supplier Bindaree Beef, the Big Daddy Steak has got Happy Father's Day written all over its 500-odd grams of gristle-free goodness.
How to cook your steak to perfection
First things first, the Big Daddy is a rump steak, which means it's a great all-rounder. Full of flavour and incredibly versatile, you can throw your Big Daddy on the barbie, in the oven or on the skillet.
But whatever method you choose, there are a few things to bear in mind before you get started.
One, steak likes high temperatures, so make sure that BBQ or skillet is smokin' before you pop your Big Daddy down.
Two, steak doesn't like to be handled. Depending on the thickness of your steak—and how you like it cooked—you'll want to sear it on one side for 4-6 minutes, flip it with a pair of tongs, and repeat. That's it.
Three, it's important to stand the steak once you remove it from the heat source. Cover your Big Daddy loosely with some foil for about half the cook time prior to serving. This ensures it stays nice and juicy.
Four, if you're still doubting your ability to plate up a decent steak, there's an app you might want to download. Designed for newbies and aficionados alike, SteakMate is full of useful tips and advice for cooking the perfect steak.
Bordeaux or bourbon? What to pour.
Once you've got your steak under control, you'll need to figure out what you're drinking. After all, a special steak deserves a drink to suit.
Fortunately, ALDI's come to the Father's Day party with a banging red from the heart of Bordeaux that does the Big Daddy justice.
The Capitor Bordeaux Rouge 2016, a très Special Buy at $14.99*, is a wonderfully rich red from one of France's most celebrated wine growing regions. Aged in oak, this award-winning tipple will hit the spot-on Father's Day, but we'd be buying another to put away for a few years, too.
If Dad's more into his home-grown varietals, ALDI's impressive everyday range features two other reds that are worth a look.
The Backstone Paddock Barossa Valley Shiraz 2016 offers balanced drinking at a very palatable $17.99, while the A.C Byrne & Co Margaret River Cabernet Merlot 2015 is a great value blend at $9.99.
Finally, if your Dad's the kind of guy to pour himself a brown liquor over a Bordeaux, look no further than the Bluegrass Kentucky Bourbon. The smooth, charcoal filtered bourbon was recently awarded a silver medal at the prestigious 2018 International Spirits Challenge. Priced at $29.99, it's a great value Bourbon that won't break the budget.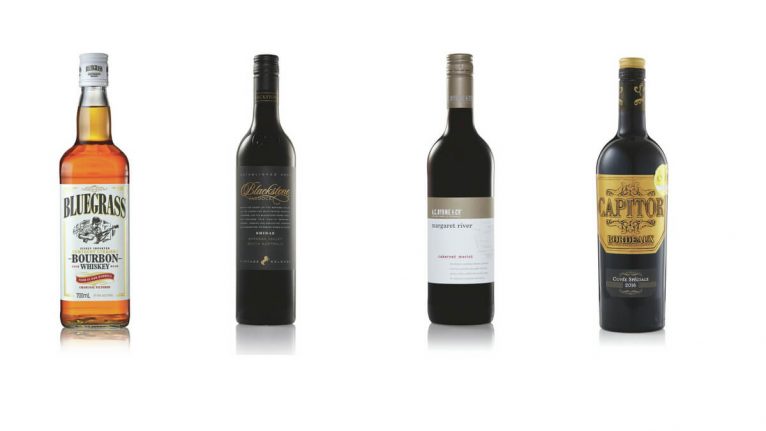 Supporting Aussie farmers while treating Dad
There's never been a better time to buy local. And when you pick up your Big Daddy Steaks this Father's Day, you'll be supporting one of the country's finest beef producers.
Hailing from North-Western New South Wales, Bindaree Beef is an award-winning producer that has supplied ALDI with a range of quality beef products since Day One.
So, for a True Blue Father's Day, get in to ALDI and pick up everything you need to create the perfect meal for the best Dad in the world—yours.
*ALDI liquor is available in select ALDI stores in NSW, ACT, VIC and WA. The Capitor Bordeaux Rouge 2016 is available for a limited time from 22nd August, until sold out.