Forget queuing for hours at the markets or paying a premium for a seafood feast this Christmas. ALDI's Christmas seafood is responsibly sourced and competitively priced, which means you can put together a spread worthy of a foodie Instagram page without spending your budget on prawns alone.
Speaking of prawns, our Extra Large Tiger Prawns 1.5kg $39.99 are a must buy for anyone hosting a true-blue Christmas. Caught wild off the coast of Western Australia, these prawns are firm, sweet and succulent. In other words, the perfect accompaniment to a hot Aussie Christmas. But if you're looking to mix things up this year, you might want to check out the Butterfield Garlic and Herb Prawns 400g $12.99, which are pre-peeled and butterflied, so they're great for easy entertaining.
For something extra special, our Lobster Tails with Garlic Butter Glaze (2pk/380g) $27.99 are sure to impress your Christmas guests. Flavoursome, tender and expertly seasoned by our chefs in a delicious garlic butter glaze, they make for a fancy complement to your traditional Christmas fare. And at $27.99, they're also great value.
Sticking with the lobster theme, look no further than the Whole Cooked Lobster 400g $19.99. It'll make a great centrepiece on your Christmas table, with the red shell sure to tie in nicely with the rest of your seasonal décor, or a tasty talking point for an intimate dinner with family or friends.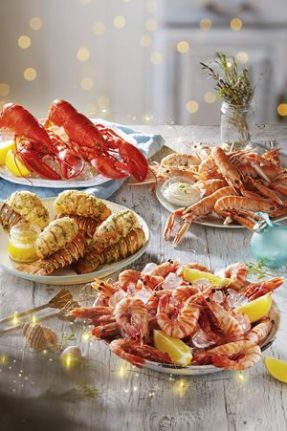 For this year's range, we imagined the sort of spread you'd get at foodie's Christmas lunch and then worked with our business partners to secure the best seafood at great value. We call it 'luxe for less'.
"ALDI customers want the best quality food to serve their family and friends this holiday season, so with our Christmas seafood range we wanted to offer great value staples like Tiger Prawns, as well as some deliciously unconventional options like Lobster Tails and Scampi," says Buying Director for Frozen Seafood, Rebecca Eichfeld.
Our gourmet-style goods also include Scallops with Herbs de Provence Butter 215g $9.99 and wild caught Scampi 800g $24.99, both of which will make welcome additions to your Christmas menu.
Finally, for a bit of Christmas convenience, we have an appetising salmon option for you to enjoy. Gin Cured Smoked Salmon 100g $5.99 comes trimmed, cured in gin and Juniper, sprinkled with lime and sugar and topped with lime zest, perfect for entertaining on the fly or enjoying once the Christmas crowds have departed.
Whatever your plans are this Christmas, whether you're entertaining for the extended family or enjoying some well-earned downtime, ALDI's Christmas seafood options promise to bring a certain flair to your fare.