It's hard to improve on great, but we think we've managed it with our new MAMIA®  nappies. On sale now in ALDI stores nationally, the new and improved nappies are even better than the originals, which is no mean feat given the swag of awards and accolades they've picked up.
Before we get into all the new and exciting features, let's look at what hasn't changed.
Firstly, Australia's favourite nappies are still made from hypoallergenic materials, meaning they're perfect for little people's sensitive skin.
All MAMIA® nappies are made from quality materials, so you can rest easy knowing our new nappies will still be 'ready when you're not.'
They're still great value, with our convenience packs ranging from just $3.99 for Newborn to $9.99 for Junior.
And best of all, MAMIA® nappies are proudly made right here in Australia, which  supports local business*.
What's new?
The improved MAMIA® nappies incorporate a host of new features designed to make your life easier, including:
In the Newborn and Infant sizes, the new updated nappies feature a highly effective Ultra Dry Layer, a super comfy soft and breathable top sheet, a wetness indicator which changes colour on contact with liquid and, as always, hypoallergenic materials that are suitable for delicate skin.
Our Crawler, Toddler, Walker and Junior nappies also get new soft and stretchy waistband sides, which is a fancy way of saying a comfy, elasticated waistband allowing for more baby movement.
We've also tweaked the sizing to improve comfort, offer better protection against leaks, and reduce sagging when wet. The nappies now also come in a range of updated designs, which are sure to be a hit with kids and parents alike.
"MAMIA® nappies have been a hit with parents due to their quality and great value, so we didn't want to mess with the winning formula when we set out to improve the range," says Nicole Paquet, Buying Director for Mamia at ALDI Australia.
"But our customers were asking for some improvements, so we pushed ahead and came up with something even better. The new MAMIA® nappies offer even greater levels of absorption and protection than the old ones without compromising on quality or value. If you liked the previous version, you'll love the new ones."
The redesigned Newborn and Infant nappies are even more absorbent, offering up to 12 hours of dryness. For the bigger kids, the new Crawler, Toddler, Walker and Junior nappies now feature enhanced leakage protection so you won't have to worry about any ill-timed accidents, day or night. Meanwhile, the soft and stetchy waistband on the bigger kids nappies is designed to make things more comfortable for little ones that are up and about as well as those who are toilet training.
Despite the improvements, our nappies have won Canstar Blue's Most Satisfied Customers Award for Disposable Nappies 2019. With even more quality packed into the range, the great value nappies that Aussie mums have come to love are now better than ever. We hope you and your little ones love them as much as we do.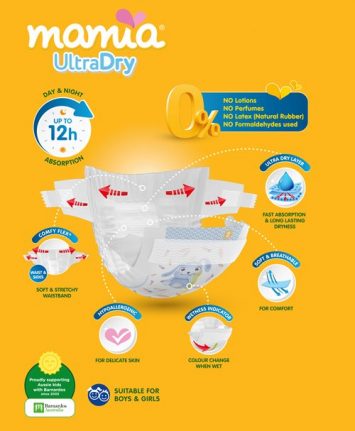 Here's what Aussie mums had to say about the new MAMIA nappies.
"If you are a Mamia nappy user they are still the same great product but now with additional improvements like stretchy sides to improve the fit, additional absorbency layer and a wetness indicator! We were lucky enough to test them out and they did not disappoint! Good quality, super soft to touch and fit Quill beautifully! My favourite part is that they are so affordable too!!!" – @through_our_days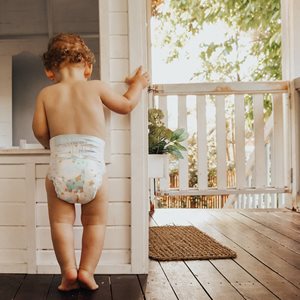 "Zara usually legs it when it's time for a nappy change, but tables have flipped since giving the new & improved ALDI Mamia Nappies a go!" @lala_lee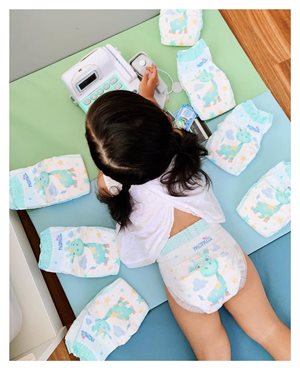 "After weeks of testing and trialing them out, Amelia was drier overnight wearing the new version of the nappies. They are TESTED AND APPROVED by Amelia. Thanks Aldi they are definitely our GO!!." @antandamelia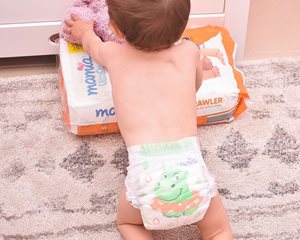 Still got questions? Check out these FAQs.
What is the wetness indicator?
The wetness indicator on nappies provides an indication of when a nappy needs to be changed. As fluid enters the absorbent core, the yellow line on the base of the nappy changes colour, indicating it is time to change the nappy.
Is the Nappy dermatologically tested?
All materials used in our nappies that are in contact with the baby's skin are dermatologically tested both as raw materials and as a nappy.
Is the Nappy breathable?
Yes, we use state of the art materials that help your baby's skin breath by allowing moisture and air through the back and front panels without affecting the leakage protection properties of the nappy.
What are the absorbent materials used in nappies?
Like all disposable nappies in the market, the main absorbent material in nappies is cellulose, in the form of fluff pulp. An absorbent gel (a super absorbent polymer) is also used within the fluff pulp to maximise the absorbency.
Why do you have Cuffs with elastic?
The side cuffs are there to help gather the materials around the child's legs and help form a further barrier against fluid loss. These materials are adhered with elastic materials well suited to this application.
Why do babies sometimes get nappy rash?
Nappy rash can occur at any time while a baby is in nappies. Some babies are more prone to the condition than others, especially those with sensitive skin. However, there are certain times when babies are more susceptible to nappy rash, such as:

During teething
Changing from breast to bottle feeding
After antibiotics, which can upset a baby's digestive system, causing diarrhoea
Starting on solid foods
Drinking cows' milk for the first time
*Our entire nappy range is made in Australia, with the exception of the Mamia Nappy Pants which are made in Belgium.