Whether you stroll the ALDI aisles on a weekly basis and know the products like the back of your hand, or perhaps you're still amazed by a new item you haven't seen on the shelves of other supermarkets before – we're here to unpack the ALDI products that have a cult following according to our fans.
Here are the products that have risen to fame amongst ALDI shoppers. The images have been taken straight from the fans' social media pages too!
Bakers Life 85% Lower Carb Higher Protein Bread
It's the bread that's received rave reviews since its launch, thanks to its high protein content and five star health rating, making it a favourite amongst nutritionists. At $4.99 a loaf, it not only offers health benefits but also value for money.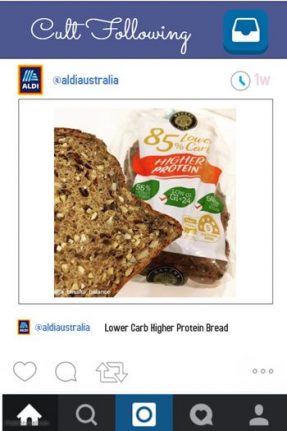 Oh So Natural Peanut Butter
As the name suggests, our Oh So Natural Peanut Butter is made from 100% peanuts and contains no additives. Not only does this provide you with more nutty nutrients, our fans also love the price tag – at just $2.99 a jar. Smooth or crunchie, it's your choice.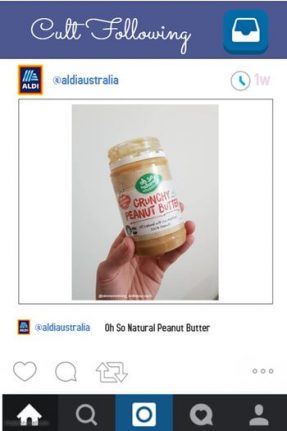 Yoconut Natural Coconut Yogurt
Our Natural Coconut Yogurt quickly became popular since it landed on shelves. And it's not just dairy-free consumers who have taken a liking to this yogurt alternative. Our customers have gone coconuts for its delicious flavour, landing it a place on our Cult Following list.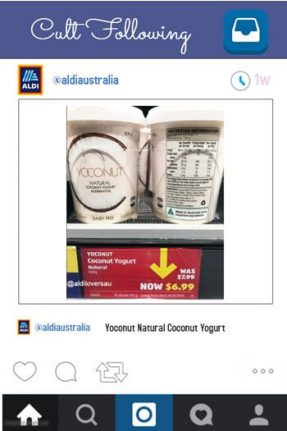 Yoconut Coconut Frozen Dessert
We knew our shoppers would love our Coconut Yogurt so we launched a dairy free nice cream! The Coconut Frozen Dessert comes in two flavours, Salted Caramel and Vanilla. We don't blame you if you can't decide which flavour to try first. The dessert is also vegan, dairy free and gluten free!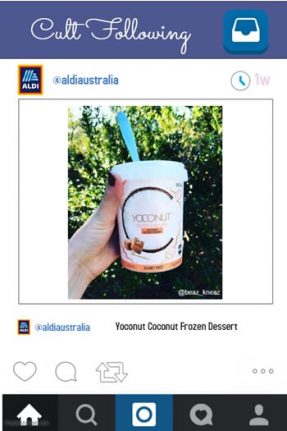 Belmont Biscuit Co Almond Spekulatius
The name of these famous biscuits might throw you off. So what exactly is an 'Almond Spekulatius'? It's a traditional European spiced cookie sprinkled with almonds – in other words YUM! Once you add these to your trolley, we have no doubt you'll be hooked. A lesser known fact about the Almond Spekulatius, they are also vegan.
Simply Vegetarian Chickpea, Sweet Potato & Quinoa Bites
If you're looking for a quick (and nutritious) meal, look no further than our Chickpea, Sweet Potato and Quinoa Bites. Whether you've been searching the supermarket aisles for a meat free alternative, or simply love sweet potato, our customers can't seem to get enough of these protein-packed bites. Pair with flat bread, add to your spaghetti, or simply heat and eat on their own.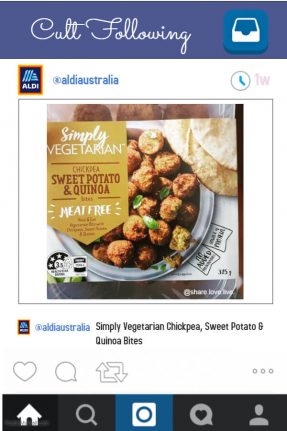 Bon Appetit Chocolate Chip Brioche Loaf
Our choc chip brioche loaf has been a long-time favourite from our baked goods range. If you haven't tried it, we recommend bringing this French made treat to your next work or family morning tea and seeing who gives it a thumbs up (we're confident the whole room will approve). While delicious enough on its own, if you want to step it up a notch, you can make some next level French toast.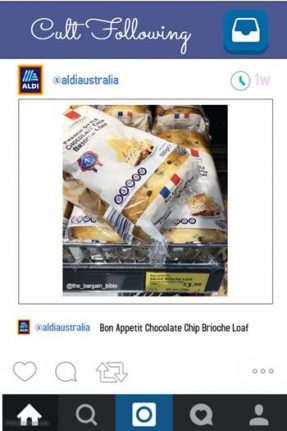 Urban Eats Turkish Style Gozleme
If you haven't stumbled across this in our freezer section, you're missing out! We'll take our shoppers word for it – this is good! Tips from fans include cooking in a sandwich press, squeezing a dash of lemon juice over the top and pairing with a dollop of natural yogurt. No matter how you choose to cook or garnish, you have yourself an (as close as can possibly be) authentic tasting Turkish Gozleme.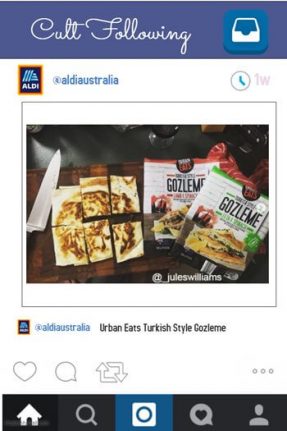 Dairy Dream Greek Style Fruit Yogurt
Our Dairy Dream Greek Style Fruit Yogurt has found a place in the trolleys of ALDI shoppers around the country. Quite frankly, the name sums it up – it tastes heavenly! With mouth-watering flavours including Citrus Cheesecake, Passionfruit and Mango and Peach and with the benefit of no added sugar, it's quickly become a household staple.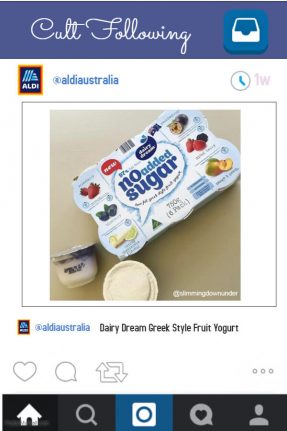 Urban Eats Greek Style Spanakopita
For those who aren't sure what Spanakopita is, it's a Greek pastry, or a twisted pie with spinach and feta cheese, to be exact. Try dipping into tzatziki for a flavour explosion. You won't regret treating yourself to this traditional style pastry.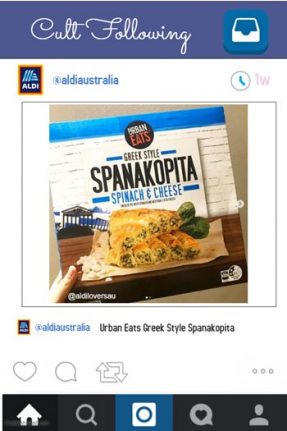 Monarc Obsession Ice Cream
There is one way to best describe our Monarc Obsession ice cream range – decadent. But we'll let some of the flavours speak for themselves, Triple Choc (milk and dark chocolate flavoured ice cream with chocolate flavoured sauce and milk and white chocolate curls); White Chocolate Passionfruit (white chocolate ice cream with a passionfruit sauce, topped with white chocolate curls); Vanilla Caramel (vanilla and caramel ice cream with a caramel sauce, topped with caramel flavoured candy pieces).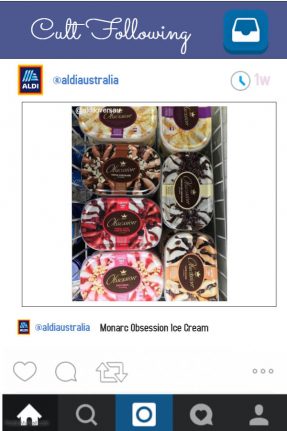 Bavarian Pretzel
Our pretzels are ready to bake straight from the pack – and ready for you to consume anyway you wish. We love how this fan has paired their ALDI pretzel with brie and truffles. Delish! Serve warm straight from the oven for a traditional Bavarian taste.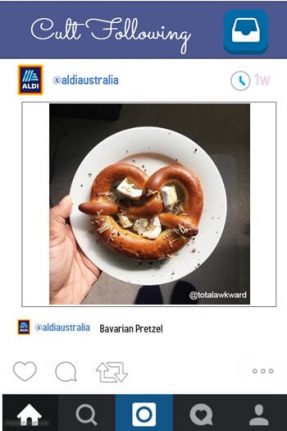 Specially Selected Woodfired Pizza
This pizza wasn't a Product of the Year 2017 winner for no reason. In fact, this woodfire pizza goes back to its roots, being made in the Friuli region of Italy. The topping combines soft mild beetroot, crumbs of goat's cheese, creamy mozzarella, sweet red onion, a delicate garlic sauce, marinated tomatoes and fresh rocket. As it never fails to impress, you can serve this up next time you have guests over for dinner. Or serve it all for yourself!