ALDI Australia has reaffirmed its commitment to keeping the cost of groceries affordable for all Australians, as more people feel the economic impact of COVID-19.
In a letter to customers published today, ALDI Australia's CEO Tom Daunt shared the company's commitment to maintain the lowest prices across its range of grocery products, at a time when it matters most to Australians.
The letter opened with an emphatic declaration that despite recent changes in supermarkets, "…one thing will never change at ALDI. Our commitment to providing our customers with the lowest prices, every day."
Daunt continued, "We are acutely aware that many Australians are facing financial uncertainty right now. Our promise to you is that ALDI will never be beaten on the price of your weekly grocery shop."
ALDI's streamlined business model and strong business partnerships with Australian primary producers and manufacturers continues to enable its price leadership among Australian supermarkets. In 2019, ALDI published independent analysis showing that ALDI shoppers collectively saved $2.2 billion in 12 months of shopping when compared to the same basket of goods at major competitors[1].
The commitment letter comes as ALDI recognises Australians are looking for certainty at the check-out.
"We are focused on helping customers navigate this uncertain time by giving them certainty over our pricing. Our weekly basket analysis continues to show that Australian shoppers can save up to 40% on their shop by replacing branded products from major supermarkets with items from ALDI.  Even if they buy the cheapest products available from other Australian supermarkets, they still save 15% on their weekly bill by shopping at ALDI," Mr Daunt assured Australians.
Conceding that these are unusual times, Mr Daunt pledged to uphold ALDI's price promise to customers:
"In recent weeks we've been busy introducing safety measures for employees and customers, but even during this time, our commitment to providing the most affordable basket of goods has not wavered.  We recognise that our focus on affordability and price leadership is one way ALDI can contribute to the recovery efforts of all Australians," he concluded.
The full letter can be read here.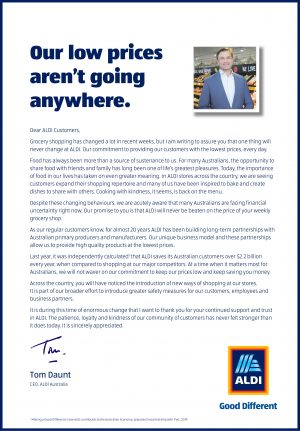 [1] Making a Good Difference: How ALDI contributes to the Australian Economy