From wild weather conditions to labour shortages, it's been a challenging year for Australians when it comes to growing, buying, and enjoying fresh local fruits and vegetables.
This makes it even more rewarding to have ALDI's fresh produce recognised by Australians, receiving Canstar Blue's Most Satisfied Supermarket Fruits & Vegetables Award for the second consecutive year, with Aussie shoppers scoring ALDI a perfect five-star score for its fresh produce across the board – the only supermarket to do so.

Group Buying Director of Fruit and Vegetables at ALDI, Jordan Lack said: "It's incredibly rewarding to have our fruit and vegetables rated number one by Aussie shoppers for another year running.  To know shoppers are extremely satisfied with the value, variety and freshness of our fruit and vegetable options is equally a credit to our grower partners who have worked tirelessly with us this year, throughout all its challenges, to bring only the best to our customers."
"We take a lot of pride in our partnerships with local fruit and vegetable producers – with 97% of our fresh fruit and vegetables coming directly from hundreds of Aussie farmers and growers. From a range of regions around Australia, our local growers work extremely hard to bring the best quality produce at ALDI's lowest prices to our stores every day."
ALDI's recent Price Report revealed that ALDI's high quality fresh produce is 18 per cent more affordable than competitor ranges. So, Aussies can be sure that they are getting the best value, award winning fruit and veg, every time they walk through the doors.
Commenting on the win, Canstar Blue's Home and Lifestyle Editor Megan Birot said ALDI and its growers should be proud of their win:
"Having secured the top results in our Supermarket Satisfaction Ratings 2022 for a fifth consecutive year, it's no surprise ALDI have once again been rated number one in our Supermarket Fruit and Vegetable Awards 2022. Given the supply challenges supermarkets and fresh produce growers have faced over the past year, these results are something ALDI and its suppliers should be incredibly proud of."
The kudos really is shared with the hardworking farmers that deliver Aussie produce to ALDI's shelves,. Jeremy Haw from Hussey & Co is responsible for growing fresh greens such as spinach, rocket and salad leaf mix that are found at ALDI also shares in the pride:
"When I walk into an ALDI and see our spinach in the chiller, it still gets me that Aussies across the country are making salads, or soups or some other creation with the baby spinach we grow on our farms. We are super proud to be an ALDI grower and hope to continue bringing award winning produce to ALDI shoppers for years to come."
Tomato grower Chris Millis from Victorian based Flavorite, is proud to grow close to three million kilograms of what's now officially award-winning, premium truss tomatoes for ALDI each year.
 "ALDI's support has been incredible and has been felt during these challenging times for growers.  Their experienced and approachable team gave us the confidence to expand our glasshouse footprint over the course of our partnership, diversify our product portfolio and introduce new healthy snacking products to ALDI shoppers. This long-standing partnership with our family owned and run business is something we are proud of and look forward to growing in the future." Mr Nichol said.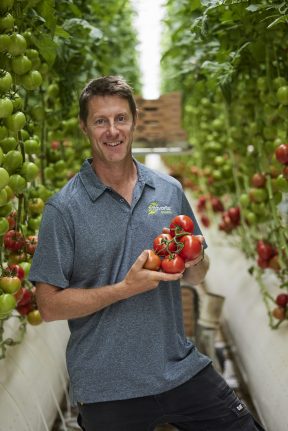 This award is one of many ALDI have received in the Canstar Blue Customer Satisfaction Awards 2022, showing the appreciation customers have for Australia's best value supermarket and the high quality of the products it offers.