We are committed to doing the right thing in every aspect of our operations and understand our responsibility to the environment and the community. More specifically, we have a number of programs in place to help combat the issue of unnecessary waste being sent to landfill. This includes a robust food rescue program, where every ALDI store is partnered with at least one food rescue charity partner.
In 2019 alone, we donated over 10 million meals and 34,000 kilograms of non-food items to our charity partners. Through these partnerships, not only are we able to reduce our impact on the environment, we are also proud to be providing much-needed meals and non-food essentials to Australians in need. While this is a year-round commitment, our regular charity partners, Oz Harvest and Foodbank, do not always have the capacity to collect excess stock between Christmas Eve and the New Year.
This Christmas, we're calling out to charities, food rescue organisations and farmers to collect unsold Christmas food. If you're a charity that will remain operational over Christmas, or know one that might be interested in partnering with us, please visit www.foodrescue.aldi.com.au from today until December 9th to apply.
In a recent Foodbank Hunger Report 2020[1]  it revealed that almost three in ten (28%) Australians now experiencing food insecurity had not gone hungry before the pandemic started. Alarmingly, vulnerable Australians who were struggling to obtain food before the pandemic are going hungry even more frequently.
"No one should ever have to go without food and Christmas can be a particularly difficult time for vulnerable Australians struggling to feed their families. It should be a season for celebrating and connecting with our loved ones. ALDI's Christmas food rescue drive will be indispensable in ensuring more Australians have access to food over the holidays," said Michael Davidson, General Manager- National Supply Chain, Foodbank.
Donate to Camp Quality this Christmas
Our shoppers can give back this season too. From Monday 30th November- December 24th, ALDI customers can add a $10 Camp Quality donation bauble, located at the gift card stand in store, to their next shop. Proceeds from the Camp Quality bauble will allow kids facing cancer to attend Camps filled with happiness, laughter and fun.  ALDI will proudly match customer donations up to the amount of $100,000. Our employees will also have the opportunity to donate, in which ALDI will match all donations.
Shoppers can also support Camp Quality, by purchasing our Charity Christmas Cards ($3.99) and Wall Calendar ($4.99) Special Buys. For every product sold, we will donate 75 cents to Camp Quality, with a goal to raise $1m every year for the next three years. Keep an eye out in-stores for our Charity Christmas Cards and from December for the Wall Calendars.
Earlier this year, we announced our three-year partnership with Camp Quality, committing to $1.5 million in donations over the three year period and aiming to raise additional funds to support children impacted by cancer.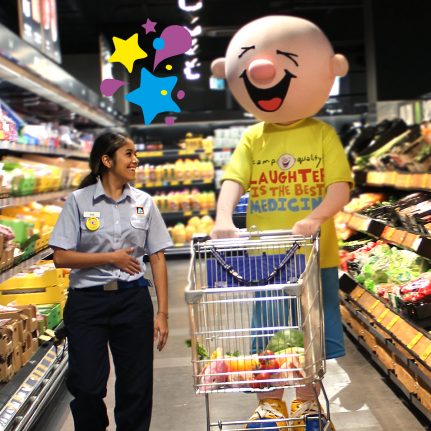 [1] Foodbank Hunger Report, 2020: https://www.foodbank.org.au/wp-content/uploads/2020/10/FB-HR20.pdf