ALDI Australia today announced its plastics and packaging reduction commitments at an event for more than 100 of its business partners. At the supplier forum, ALDI noted that the company is committed to working in partnership with suppliers to meet the ambitious but achievable targets. If successful, ALDI will cut at least a quarter of all plastic packaging from its range by 2025. In an act of transparency and authenticity, ALDI also committed to annually report on its progress towards this goal.
ALDI also took the significant and symbolic step of announcing that all problematic single use plastics such as cotton buds and plastic plates would be gone from its stores by the end of 2020.
"It is our ambition to reduce the amount of plastics in our stores, while in parallel stimulating Australia's circular economy, ensuring that our business partners have commercially viable packaging options to reduce their reliance on virgin materials.
Despite our desire, and that of our customers, to remove plastics immediately, this process will take years not weeks. Today's announcement is to clearly demonstrate that we are completely invested in the important journey of reducing waste and we stand committed to quantify our progress over the coming years," said Oliver Bongardt, Managing Director of Buying, ALDI Australia.
ALDI is committed to working with its business partners to achieve the following commitments:
1. By the end of 2025, we aim to reduce plastic packaging by 25% (2019 baseline).

2. We will actively reduce the amount of plastic packaging in our fresh produce range and transition to more sustainable alternatives where possible, providing no increase in food waste.

3. We will phase out problematic and unnecessary single-use plastics by the end of 2020. These include plastic straws, plastic disposable tableware and plastic stemmed cotton buds.

4. We will prioritise the reduction or replacement of difficult to recycle black plastic packaging.

5. The packaging of our exclusive brands will be reformulated to be 100% recyclable, reusable or compostable by the end of 2025.

6. By the end of 2020, all paper and pulp-based packaging in our everyday range will either be FSC, PEFC or 70% recycled.

7. We will aim to stimulate an Australian circular economy by committing to include 30% recycled materials in our plastic packaging by the end of 2025.

8. We will publicly report against all of these goals from 2020.

9. We will use the Australasian Recycling Label (ARL) on ALDI branded products by the end of 2022 and we will further educate customers on the importance of packaging waste reduction (reduce, reuse, recycle).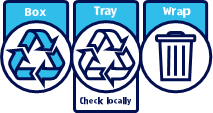 The above commitments will reduce ALDI's reliance on plastic packaging, consequently leading to the reduction of waste going to landfill.
In response to ALDI's announcement, Brooke Donnelly, CEO, Australian Packaging Covenant Organisation said, "I'd like to acknowledge ALDI on their new sustainability commitments, which represent a significant contribution to sustainable packaging in Australia and an important milestone in our work to reach the 2025 National Packaging Targets. Today's announcement demonstrates that sustainable packaging isn't just good for the environment; it also makes good business sense and can drive a range of positive commercial benefits"
"It's particularly impressive to see the process ALDI has undertaken to involve their suppliers; effectively bringing a range of businesses along on their sustainable packaging journey and delivering an efficient, cost effective approach to the entire supply chain."
To ensure that ALDI meets these goals there is a heavy reliance on its business partners to make alterations to their production. ALDI explained to its gathered suppliers that it acknowledges the pressures these commitments will place on their businesses and has resourced a team to support the transition.
As a speaker and panelist at ALDI's event, Raphael Geminder, Chairman of Pact Group, one of ALDI's long standing business partners said, "Pact Group started its sustainability journey almost two decades ago, and it's now part of the groups DNA. But even though we have been doing this for a long time – we are in unchartered waters. It's not business as usual, geopolitical and consumer shifts in sustainability have created an urgency towards action, to transform our system and move to a circular economy, creating the need to invest in scalable end of life solutions that will consume Australia's recyclable resources."
"Australia is an innovative advanced first world economy and to effect this shift, we will need to embrace closed loop industry solutions, embrace collaboration and continue to eliminate waste in our supply chain. Collecting material is not a solution, we need to embrace and grow returnable packaging, aggressively expand pooling solutions and find large sinks that consume high levels of recycled material. We launched our End of Waste 2025 commitment last year and are actively investing in solutions that help us achieve our goal and in turn help our partners achieve their own sustainability objectives."
These packaging goals are part of ALDI's larger waste reduction programs including never offering single-use carrier bags. The impact of this decision is the estimated diversion of six billion single-use plastic bags, or 40,000 tonnes of plastic, from entering the environment.
The business is the only supermarket to offer a battery recycling program and every store in ALDI's network is linked to one or more food rescue partners. By the end of 2018, ALDI had donated 4,077 tons of food waste or 8.15 million meals to a series of Australian charities, including FoodBank, OzHarvest and Second Bite. Further, last year ALDI collected and facilitated the recycling of 5.9 million batteries.
Mr. Bongardt adds, "Together with our valued business partners, we are proud to have built a reputation for providing customers with a high quality and affordable shopping experience. As we look to our future in Australia, we want to reassure our customers that how we conduct business is just as important to us as the low prices we offer."