It's 8am at the ALDI Prestons Distribution Centre in Sydney's South West and ALDI Transport Operator, Stephen Ly, has just signed on for his shift with his thumbprint. He chats with his fellow drivers while they each check out their assigned routes and gather store mail.
Logistics Manager, Martin Pottage, then leads the group through a series of stretches and a team meeting, to prepare them for the day ahead. All this takes place against the backdrop of a vast yet incredibly organised warehouse space, as warehouse staff whiz around on forklifts, moving stock with expert precision.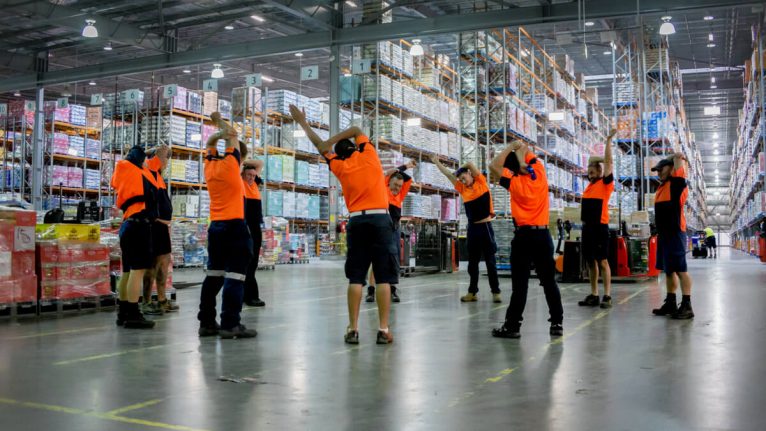 The Prestons Distribution Centre is just one of eight ALDI Distribution Centres located around the country. Stephen and his colleagues are part of a wider national team of over 500 dedicated ALDI Transport Operators. A vital part of ALDI's supply chain, the Transport Operators at the Prestons Distribution Centre alone deliver approximately 144,704 cases of products every day to over 100 stores in New South Wales.
"I've been truck driving for around 14 years and I've been working with ALDI for seven," explains Stephen, as he completes his truck safety checks and loads products for his first delivery of the day, which is bound for ALDI Riverwood. It's a task that's made even more efficient by the fact that products in the Distribution Centre are cleverly organised to mirror ALDI store layouts. Stephen knows exactly where everything is stored, and when he arrives to store he knows what to unload from the truck first in order to best assist the store staff in restocking shelves.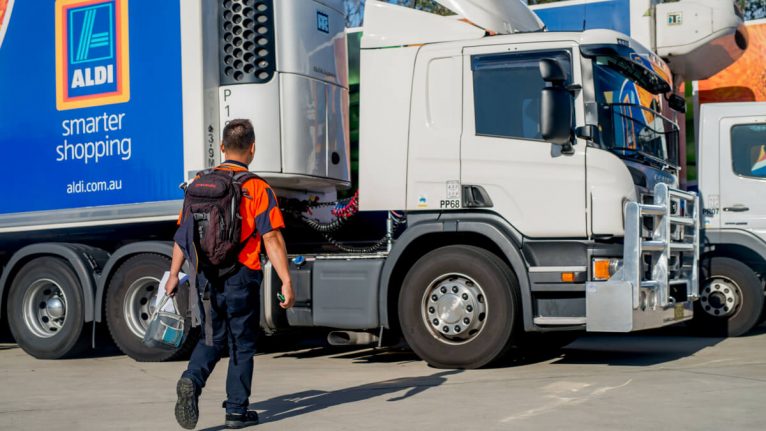 Upon arrival at ALDI Riverwood, Stephen is greeted by Store Assistant, Ryan Nagle.  The pair chat about how their busy days are shaping up as they unload the stock. Interactions like this with store-based colleagues are just one of the many reasons Stephen enjoys his job so much.
"It's like catching up with friends every time you go to a different store," he says. "Once I deliver the stock, I do my paperwork, pick up some empty pallets and then return to the Distribution Centre."
After taking time out to tuck into a delicious homemade lunch at the Distribution Centre break room, Stephen re-loads his truck before heading out for ALDI Hillsdale. He then returns to the warehouse to repeat the same re-loading process before his final delivery for the day at ALDI Macquarie Park.
No two days are ever the same, however Stephen recognises there is plenty of consistency in his role. From the way he loads his truck, the end delivery at store and sign off at the completion of his shift, Stephen is always efficient and on top of his game.
For Stephen, one of the things he enjoys most about being an ALDI Transport Operator is the sense of teamwork and the emphasis ALDI places on driver and public safety. He also acknowledges the opportunities he's been given to grow and develop professionally.
"The teamwork is great here at ALDI," says Stephen. "It's a very safe company and a good working environment. I feel really connected to the values ALDI believes in and there are so many opportunities to build your career."
It's not only being part of a tight knit team that makes Stephen proud to be an ALDI Transport Operator. While he gets a great sense of pride from this, Stephen admits that his job isn't always easy and comes with a lot of responsibility.
"Some people think that truck driving is easy. However, there's actually a lot of skill and situational awareness needed to navigate busy roads safely. We also have to remember that every time we're on the road we're representing ALDI," he says.
He relishes the variety of his routine, seeing friends who work in store and unexpected moments such as catching a beautiful sunset at the end of spending his day on the road.
"I've never really been an office person," says Stephen. "I love the open space. Every day we go to different stores and meet new people. There's not really a typical day for us truck drivers."
Watch as we follow Stephen around on a typically non-typical day, to shine a spotlight on the important work ALDI's Transport Operators do.